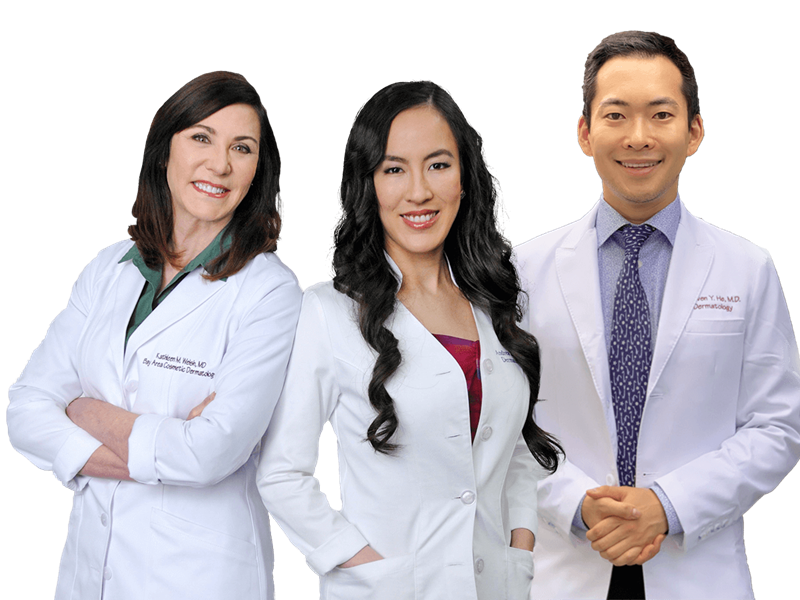 Kathleen M. Welsh, M.D.
As the founder of Bay Area Cosmetic Dermatology, Dr. Kathleen M. Welsh is a true skincare leader. With board certifications in both internal medicine and dermatology, she understands how to make improvements that are more than skin-deep.
Meet Dr.Welsh
Andrea Hui Austin, M.D.
Board-certified in dermatology, Dr. Andrea Hui Austin masterfully blends her strong sense of aesthetics with her advanced scientific knowledge to guide her patients to the services and therapies that provide the best possible results.
Meet Dr.Hui Austin
Steven Y. He, M.D.
Board-certified in dermatology, Dr. He specializes in a wide range of both cosmetic and medical treatments. He aims to maintain your unique natural expressions with a strong emphasis on less is more towards graceful aging.
Meet Dr.He
Welcome to Our Office
Bay Area Cosmetic Dermatology is a state-of-the-art facility located in the Lower Pacific Heights of San Francisco, California. Our board-certified dermatologists know healthy skin does more than look good. It functions beautifully, too, acting as a barrier against the outside world and telling a greater story about who you are and where you've been. Our dermatology services in San Francisco improve both skin health and beauty for meaningful, lasting results that everyone will notice.
A proactive approach to your skin can make all the difference in decreasing—or even reversing—the signs of aging. Take it from Dr. Kathleen Welsh, "When it comes to skincare, the age you start is the age you stay."
Our Reviews
I went to Bay Area Dermatology because a few of the girls in my office recommend it. I had developed a really bad case of melasma on my cheeks and upper lip. When I made an appointment they had asked me if I had a preference as to who I wanted to see. I told the receptionist that I had Asian skin so if I could get someone that is familiar with treating common Asian skin issues that would be fantastic. I was scheduled an appointment with Dr. Hui.A...
J.C.
Always friendly and professional. Dr. Austin has an artistic eye. I appreciate her "we can always do more later" approach, which is allowed me to try things out, take small steps, and feel confident with my decisions. I always leave the office feeling and looking 10 years younger!
J.H.
During Covid, I had a visit yesterday with Dr. Kathleen Welsh and her nurse, Cynthia, for beauty injections as well as a process to remove the redness from roascia and broken blood vessel's in my face. My experience was wonderful. I was greeted by an assistant in a mask and facial shield at the door who took my temperature. I felt Covid safe in the patient room. All the assistance wore masks. Everybody who treated my face was wearing a mask and ...
D.B.
7/16/2020Dr. Austin is absolutely the best dermatologist in the US. I have seen countless Dermatologist from Stanford University to Dr. Obagi in Beverly Hills, none of them were able to help my melasma issue. Dr Austin looks out-of-the-box she's smart, knowledgeable, self-confident and most importantly very experienced! She's also a very kind beautiful lady who will listen to you and solve your problem. I am so happy I have found her after years ...
L.S.
I have been coming to Dr. Welsh's office on and off for various treatments since around 2006.  I absolutely love this office, top notch professionalism and reasonable prices. I saw Mary recently, one of the nurses , and she was absolutely a wonderful practitioner with a fabulous bedside manner.  I look forward to visiting Dr. Welsh's office for self-care and for how the staff are so nice. Honestly I can't say enough good things!  Not one complain...
J.C.
*Individual results are not guaranteed and may vary from person to person. Images may contain models.