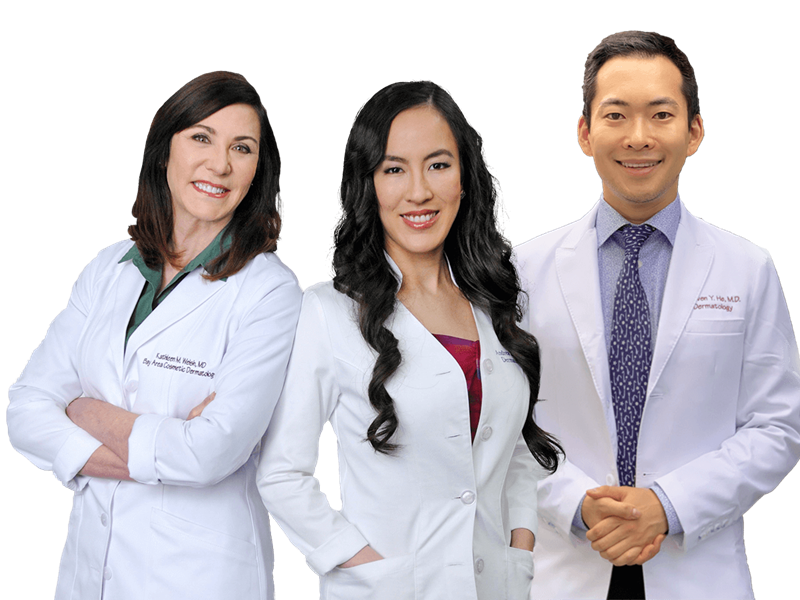 Kathleen M. Welsh, M.D.
As the founder of Bay Area Cosmetic Dermatology, Dr. Kathleen M. Welsh is a true skincare leader. With board certifications in both internal medicine and dermatology, she understands how to make improvements that are more than skin-deep.
Meet Dr.Welsh
Andrea Hui Austin, M.D.
Board-certified in dermatology, Dr. Andrea Hui Austin masterfully blends her strong sense of aesthetics with her advanced scientific knowledge to guide her patients to the services and therapies that provide the best possible results.
Meet Dr.Hui Austin
Steven Y. He, M.D.
Board-certified in dermatology, Dr. He specializes in a wide range of both cosmetic and medical treatments. He aims to maintain your unique natural expressions with a strong emphasis on less is more towards graceful aging.
Meet Dr.He
Welcome to Our Office
Bay Area Cosmetic Dermatology is a state-of-the-art facility located in the Lower Pacific Heights of San Francisco, California. Our board-certified dermatologists know healthy skin does more than look good. It functions beautifully, too, acting as a barrier against the outside world and telling a greater story about who you are and where you've been. Our dermatology services in San Francisco improve both skin health and beauty for meaningful, lasting results that everyone will notice.
A proactive approach to your skin can make all the difference in decreasing—or even reversing—the signs of aging. Take it from Dr. Kathleen Welsh, "When it comes to skincare, the age you start is the age you stay."
Our Reviews
I went to Bay Area Dermatology because a few of the girls in my office recommend it. I had developed a really bad case of melasma on my cheeks and upper lip. When I made an appointment they had asked me if I had a preference as to who I wanted to see. I told the receptionist that I had Asian skin so if I could get someone that is familiar with treating common Asian skin issues that would be fantastic. I was scheduled an appointment with Dr. Hui.A...
J.C.
I visited Dr. Austin for a skin consultation after receiving a recommendation from one of my friends who sees Dr. Austin for Botox (Xeomin) injections and to review & remove any suspicious moles/freckles and review skin damage on my neck.  Her office staff are very friendly & helpful. After washing my face (they provide makeup pad removers, facial wash & a hair band), photos were taken including one with a camera to determine sun damage. Dr. Aust...
P.M.
As an Asian, I know that I have the genetic advantage of looking young for my age. That can be negated by baking in the sun. I decided to stay out of the sun since my late 20s when I finally stopped going to the tanning salon (!!!). I decided rather late in life to finally take care of my skin.I *almost* didn't want to write this review about Dr. He, fearful that he will get so busy I'll have to book appointments with him at least a month in adva...
N.T.
I highly recommend Dr. Steven He. I have had melasma and Nevi of Ota from on my cheeks and temples for the past 15 years. I've tried treatments from other dermatologists, including hydroxychloroquine cream, with no improvement. I've also met with other laser treatment centers, who presented cookie cutter treatments. However, I've seen friends and family get rebound hyperpigmentation on their face from aggressive dose of laser therapy. For Asian s...
W.T.
This place is the élite Dermatology spot in the Bay Area. Dr. Welsh and her team are simply incredible in their professions. The place is talented, clean, proficient and all with a personal touch you will not soon forget. For many years now I have simply gone in and sat down and let them do what they know best. Keep up the great work!
K.R.
*Individual results are not guaranteed and may vary from person to person. Images may contain models.