CELLULITE HAS MET ITS MATCH
The EMTONE is the only device specifically designed to target cellulite. The bar has been raised and cellulite has finally met its match!
Reviews
"I visited Dr. Austin for a skin consultation after receiving a recommendation from one of my friends who sees Dr. Austin for Botox (Xeomin) injections and to review & remove any suspicious moles/freckles and review skin damage on my neck.  Her office staff are very friendly & helpful. After washing my face (they provide makeup pad removers, facial wash & a hair band), photos were taken including one with a camera to determine sun damage. Dr. Austin has a very positive, glowing energy about her & was very easy to speak with about my skin concerns. After a full review of my skin & my skincare regimen, I got 20 units of Xeomin in my forehead & removal of a mole that was progressively getting larger on my upper lip. Thankfully the lab report indicated that it was benign. I visited again about 10 days later for additional freckle removal & treatment for sun damage on my neck, as well as a check in for my Botox injections to see how it settled in. The Botox looked great & my skin was smooth. I've healed up from my 2nd visit & my skin looks great.Her strongest recommendations is to always wear sunblock (I wear 2-3 layers on my face but I forgot to apply on weekdays to my neck when I was living in Hawaii which resulted in 15 years of sun damage while driving )."
- P.M. /
Yelp /
Oct 15, 2020
"I highly recommend Dr. Steven He. I have had melasma and Nevi of Ota from on my cheeks and temples for the past 15 years. I've tried treatments from other dermatologists, including hydroxychloroquine cream, with no improvement. I've also met with other laser treatment centers, who presented cookie cutter treatments. However, I've seen friends and family get rebound hyperpigmentation on their face from aggressive dose of laser therapy. For Asian skin, sometimes the dose of laser and strength of chemical peels have to be adjusted due to skin sensitivity. As an Asian female physician, I was cautious about who to trust. I chose Dr. He because I heard he has lots of experience with Asian American patients. I started seeing him a few months ago, and I am extremely confident in his skills. He is thoughtful about his approach and tailors his treatment plan to the individual patient. I have had 5 treatments, starting with chemical peels to remove superficial melasma, and now transitioned to laser treatments for the darker spots. The spots have significantly lightened. I recently saw my family, who had been hounding me for years about my spots, and they could not even notice the spots! I am extremely satisfied with Dr. He's care. He is a knowledgeable, conscientious, effective physician."
- W.T. /
Yelp /
Sep 16, 2020
"This place is the élite Dermatology spot in the Bay Area. Dr. Welsh and her team are simply incredible in their professions. The place is talented, clean, proficient and all with a personal touch you will not soon forget. For many years now I have simply gone in and sat down and let them do what they know best. Keep up the great work!"
- K.R. /
Google /
Sep 01, 2020
"As an Asian, I know that I have the genetic advantage of looking young for my age. That can be negated by baking in the sun. I decided to stay out of the sun since my late 20s when I finally stopped going to the tanning salon (!!!). I decided rather late in life to finally take care of my skin.I *almost* didn't want to write this review about Dr. He, fearful that he will get so busy I'll have to book appointments with him at least a month in advance! Yes, I know that's selfish of me but I am a little bit proprietary when it comes to good doctors - if I find a doctor who not only has an amazing and compassionate manner AND super knowledgeable in his/her field, I'm a patient for life. I originally went to Dr. He for filler. When I first met him, I couldn't stop staring at his skin. I wanted my skin to look like his! He told me what he could do for me and not only did he end up educating me about different fillers but suggested different treatments I could get.Because Dr. He is such a good educator about skin, I have gotten various treatments for my rosacea and other issues and have been very happy with everything he suggested."
- N.T. /
Yelp /
Oct 15, 2020
"As an esthetician I deeply appreciate the impecccable 5 star job this office does. Dr Austin has a reputation for being extremely careful and honest with her patients and each botox procedure I have had with her has been flawless. I also have to shout out nurse mary who is a rare gem in this industry. She makes any procedure comfortable-- even microneedling. She is so deeply personable and makes every patient feel special. The supporting staff is always so patient and caring as well... and Monica the esthetician who supports dr Austin is another absolute gem and has a fabulous bed side manner-- this office is unique in its precision with treatments and lovely people to make sure you're always at ease."
- T.Z. /
Yelp /
Aug 24, 2020
Previous
Next
Diet and exercise and at home devices?
There are multiple factors that contribute to cellulite and unfortunately at home treatments are often very temporary and don't reach the depths needed to target the collagen fibers and adipose tissue that are the main factors of dimpled skin. Luckily the EMtone can do just that!
Exilis Ultra?
If you loved our Exilis Ultra treatments for cellulite reduction, you will absolutely be thrilled with the EMtone. Incorporating pneumatic energy (think Zwave) while simultaneously delivering heat and radiofrequency allows tissue to reach a higher temperature while maintaining patient comfort. This means better results! Treatments can also be done twice a week getting you to your endpoint much quicker.
Sculptra?
EMtone is the perfect compliment to Sculptra. Sculptra injections allow us to fill in large dimples while the EMtone targets the remaining tissue and tightens the skin. Using both of these treatment options together yields maximum results.
Alastin Transform?
On its own, Alastin Transform has been the favorite at-home body product among our patients improving tone and texture. But paired with EMtone, Alastin has the power to enhance and speed up your results by using its LipoDRONE delivery system to accelerate the body's natural removal process of post procedure fat debris, while supporting the production of new collagen and elastin. Click here to purchase.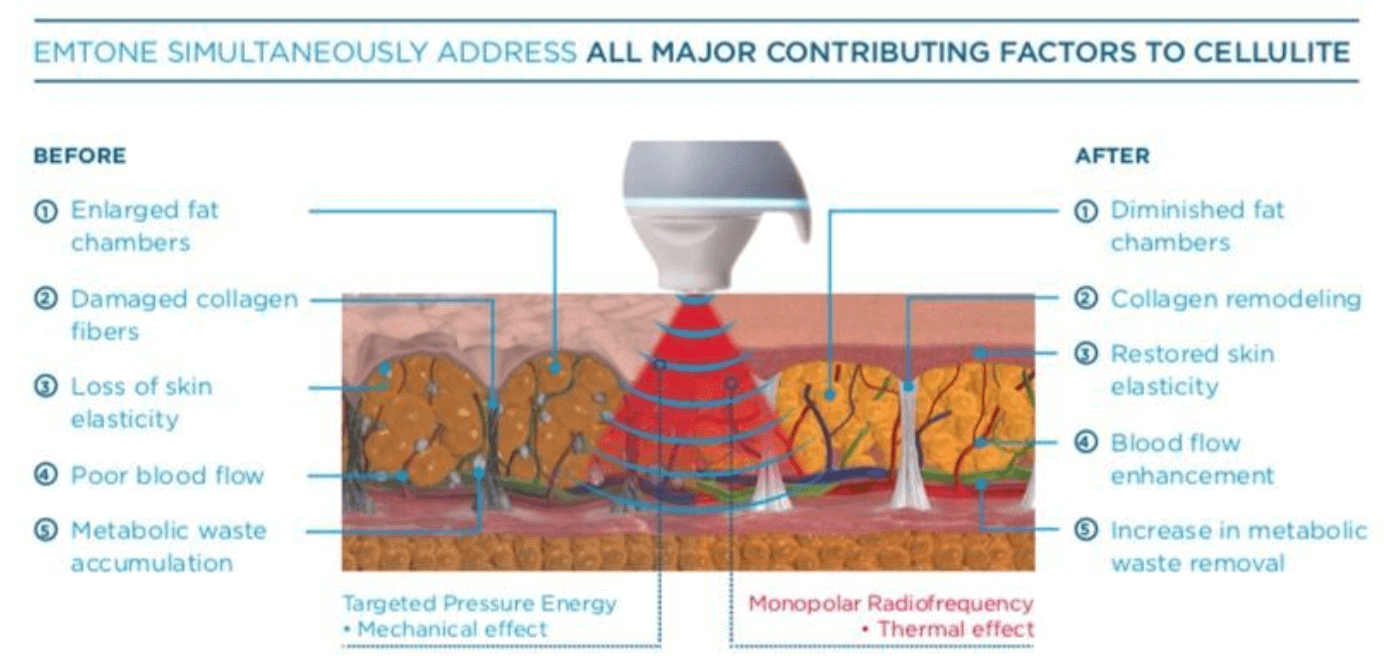 HOW DOES EMTONE WORK?
EMtone is the only device that simultaneously addresses ALL of the contributing factors to cellulite including diminishing fat chambers, remodeling collagen, restoring skin elasticity, enhancing blood flow and increasing metabolic waste removal in the treated area.
AM I CANDIDATE?
Do you have unwanted areas of cellulite? Then yes! EMtone is great for anyone looking to smooth and tighten their thighs, abdomen, arms, and even calves.
EMtone cannot be performed on women who are currently pregnant.
HOW MANY TREATMENTS WILL I NEED?
During your complimentary consultation, one of our body specialists will design your individual treatment plan. We typically recommend 6 treatments, scheduled 1-2 times/ week. A treatment for a single area takes approximately 30 minutes, but you may need to allow up to an hour in our office.
WHAT DOES THE TREATMENT FEEL LIKE?
Like an intense hot stone massage. We are also able to adjust settings and treatment techniques to adapt to your comfort level.
WHEN CAN I EXPECT TO SEE RESULTS?
Some patients see small changes even after their first treatment, however the full results take 2 months following your last visit.
IS THERE ANY DOWNTIME?
There is no downtime with the EMtone treatment and you can return to all normal activities immediately post treatment. The area will remain red for 20-30 minutes after your session.
HOW DO I PREPARE?
EMTone can only be applied on a body area which is free from hair. It is highly recommended that you shave the area on the day of your procedure. On the day of your procedure be sure to remove any jewelry in the treatment area. Other than that, there is no other necessary preparation required for an EMtone treatment, although it's always a good idea to come to your body treatments well hydrated.
BEFORE & AFTERS
Below you will see before and after photos courtesy of BTL Aesthetics,, the makers of EMtone. We will have more of our own to share soon!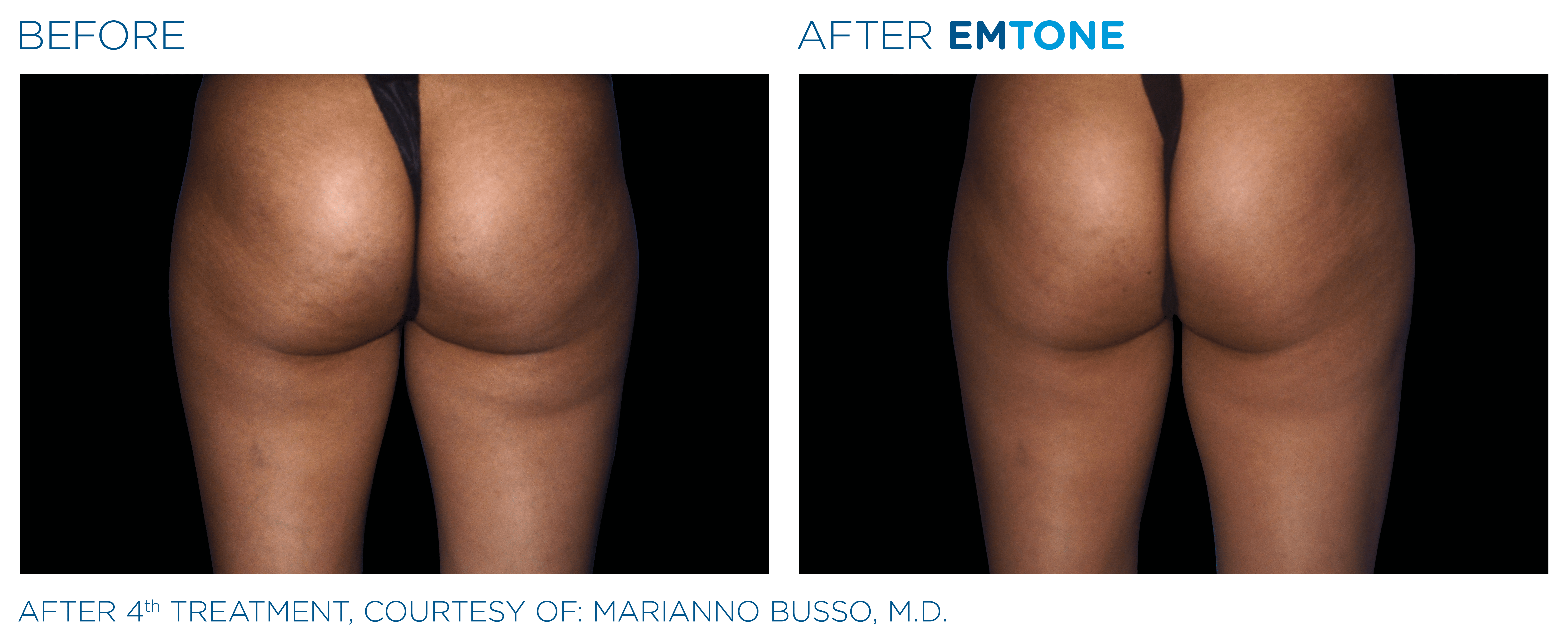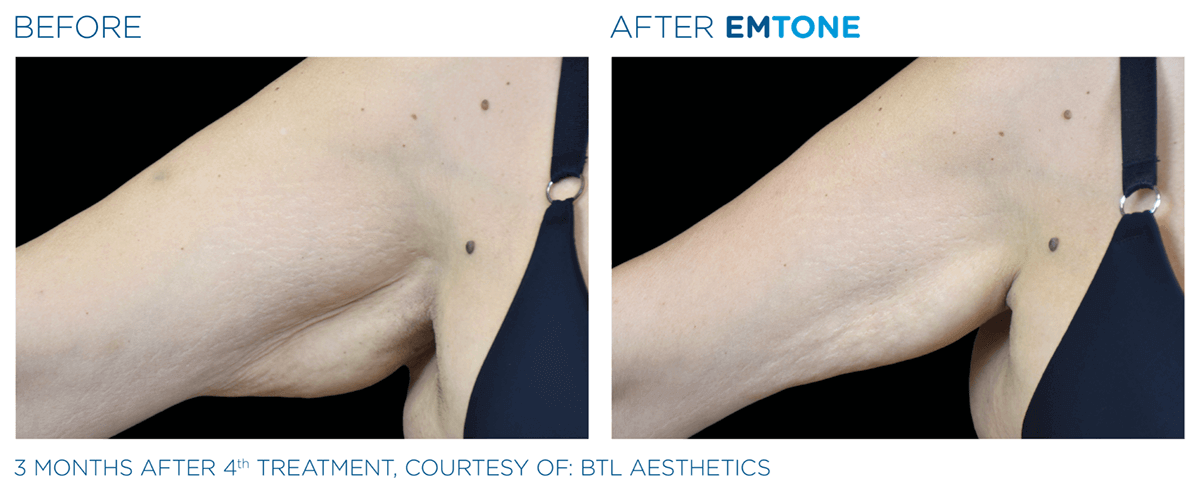 Related Posts