Emtone in San Francisco, CA*
CELLULITE HAS MET ITS MATCH
The EMTONE is the only device specifically designed to target cellulite. The bar has been raised and cellulite has finally met its match!
Have You Already Tried...
Diet and exercise and at home devices?
There are multiple factors that contribute to cellulite and unfortunately at home treatments are often very temporary and don't reach the depths needed to target the collagen fibers and adipose tissue that are the main factors of dimpled skin. Luckily the EMtone can do just that!
Exilis Ultra?
If you loved our Exilis Ultra treatments for cellulite reduction, you will absolutely be thrilled with the EMtone. Incorporating pneumatic energy (think Zwave) while simultaneously delivering heat and radiofrequency allows tissue to reach a higher temperature while maintaining patient comfort. This means better results! Treatments can also be done twice a week getting you to your endpoint much quicker.
Sculptra?
EMtone is the perfect compliment to Sculptra. Sculptra injections allow us to fill in large dimples while the EMtone targets the remaining tissue and tightens the skin. Using both of these treatment options together yields maximum results.
Alastin Transform?
On its own, Alastin Transform has been the favorite at-home body product among our patients improving tone and texture. But paired with EMtone, Alastin has the power to enhance and speed up your results by using its LipoDRONE delivery system to accelerate the body's natural removal process of post procedure fat debris, while supporting the production of new collagen and elastin. Click here to purchase.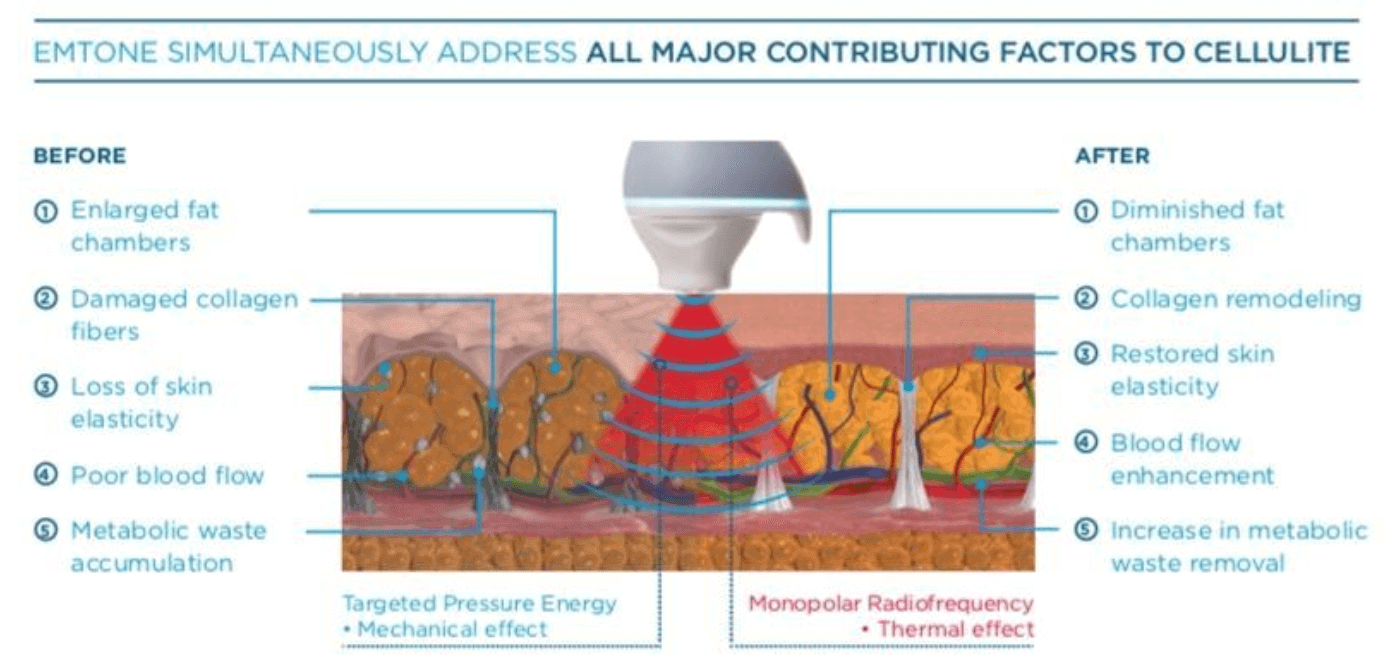 Bay Area Cosmetic Dermatology Reviews
This is my first time seeing a cosmetic dermatologist at 26 yrs old for acne scarring on my cheeks, jawline and some on my temples that I've had for well over 8 yrs. I've always been super self conscious about it and I think have stopped myself from doing things that I enjoy due to it. I was able to book an appt with Dr. He and he was very reassuring. I might've been too comfortable to the point I didn't ask all the questions I now have as someone hesitant to move forward with any kind of treatment, due to the trauma of previous non cosmetic dermatologist. As a mixed (Asian & black) individual, I've always been skeptical about how my skin would be treated since I don't solely have genes of one particular race (which I'm uncertain if it's even a factor). With that in mind, I really like that he went over treatment options that would be most beneficial for my skin with minimal to no side effects.I plan to move forward with subcision to get the ball rolling for my scars. I was prescribed products that were pretty pricy. $700 in total with the consultation fee. I also asked about the pricing of each treatment that may be best for me. I don't think I'm desperate enough to cash out on anything for the sake of my skin without extensive research and consultation but I feel, and from previous reviews I've read, Dr. He is highly knowledgeable, takes his patients into consideration and i don't think this will be for naught. If I know I'm in good hands I will be sure to return. I'm very anxious but very excited to finally give my skin the healing it deserves. So far Dr. He gets 5 stars from me and I'm looking forward to being under his care in the near future. I'll follow up with this review then :).
This review is long overdue! Dr. Austin is incredible at treating rosacea!! Dr. Austin has been life changing for me and my skin. I found her online from searching frantically for someone for years in the Bay who had experience working with rosacea. Rosacea started for me in my early 30s, what felt like out of no where during grad school. After trying many other things, including strictly cutting out foods that were irritating I was still having intense rosacea breakouts. Dr. Austin took pictures, explained what was happening and we went over my skin routine. I learned how there are different types of rosacea, she explained what can irritate it (which can include natural oils!) and then she gave me a very specific skin care routine with products. I saw results almost immediately after using sticking to the topical routine. I recently saw her after 3 years of sticking to my regimen and my skin has greatly improved. I flare maybe a few times a year with stress but it will usually go away that day with combo ointment meant for rosacea. I have even seen lines on my forehead go away with one of the topicals, an added bonus! She is also very encouraging, has a warm bedside manner. If you have been dealing with skin issues and the confidence behind that look no further, Dr. Austin is worth it!
Great work. I have my son's wedding coming and as mother of the groom, I wanted my son to be proud of how I look. Cynthia, the Nurse Practitioner along with her assistant Bridget, have really done some nice work. After decades of being in the sun, my skin looks so much than it did. The redness is much paler and the tone is much more even. I had noticed that because of aging, my lips were so much thinner. Not anymore!  It's all been great, and I can't wait for the wedding!
When I turned 40, I decided to find the best cosmetic dermatology office in San Francisco for guidance and treatment. I praise the skin gods that I met Dr. Austin. She quite literally changed my skin… for the better. She's listened to me, heard my goals and gave me a skin plan that I followed to a T. Two years in, my skin is balanced, bright, and healthy - dare I say youthful :-) if you want the best, don't look any further.
I am not exaggerating when I say that Dr. Andrea Hui Austin is a LIFE CHANGER. I've been seeing her for almost two years now for treatment of my rosacea and acne and skin is clearer than it's ever been, clearer than I ever hoped it would be. I first started seeing Dr. Austin in 2019, a few months after I turned 31. I'd been diagnosed with rosacea in middle school and had otherwise had fairly clear skin until I reached college. In college, I started breaking out more and more frequently until my acne was basically chronic. Some people in my family had late-bloomer acne, so I told myself it would probably just clear up as I got older, and I tried to take the best care of my skin that I could in the meantime. I tried every OTC treatment under the sun, went on different diets, and saw a series of dermatologists who put me on a range of topical medications and oral antibiotics. Nothing made much of a difference and by my late 20s I'd was so close to giving up and resigning myself to having bad skin for the rest of my life, although it made me feel miserable.That's when I realized that the one thing I hadn't tried was seeing a dermatologist who specializes in treating rosacea. I did some googling and Dr. Austin's name came up again and again, so I scheduled a consult. My expectations weren't high, given how little luck I'd had before. But Dr. Austin completely blew me away in the consult. Not only was she able to explain why my rosacea was causing these breakouts, but I was blown away by her empathy; she started the appointment by asking me to tell her about my history of rosacea and acne and after I went through the litany of things I'd tried she said, "I'm so sorry you had to go through that." It made me tear up to feel like someone cared and understood how much having bad skin can take a toll on self-esteem.She started me on a routine of oral medication and new topical skincare products, and did an excellent job of answering all my questions and explaining how each product or medication worked and why it was necessary. I noticed a difference in my skin within weeks, and once the breakouts were more under control we began a series of laser treatments to help tame the rosacea. As my skin continued to heal and improve, the treatments became less frequent, and I'm now at the point where I only have them a few times a year. My skin has healed enough that she's also able to address the scarring I have from acne and, honestly, that's a milestone I never thought I'd reach until I started working with her. She's continued to be a thoughtful and kind person, celebrating the milestones with me as my skin healed, remembering details about my personal life, and engaging me in conversation during the treatments; I feel like she really cares.As a bonus, the whole BACD staff is competent, professional, and friendly. They keep things running smoothly, call/email back quickly, and have a very flexible auto-ship program that sends my topical products to me four times a year. BACD has done a sterling job of adapting to the pandemic--they've put up signage, spaced out appointments, created physical distance in the waiting room, and changed their payment process so you pay in the treatment room. I've noticed some other places get lax with these types of measures as the pandemic has gone on, but BACD has been incredibly consistent, which I appreciate.If you have rosacea and acne, Dr. Austin is your gal. She's truly and completely changed my skin in a way I never thought possible. I highly, highly recommend her!(The photos I've included from her office are from before the acne scarring treatment; the personal photos I included are after one acne scarring treatment. No digital filters, no makeup or concealer in any of these photos!)
Get In Touch
Learn More About Bay Area Cosmetic Dermatology
About Us
Before & Afters