CELLULITE HAS MET ITS MATCH
The EMTONE is the only device specifically designed to target cellulite. The bar has been raised and cellulite has finally met its match!
Reviews
"I went to Bay Area Dermatology because a few of the girls in my office recommend it. I had developed a really bad case of melasma on my cheeks and upper lip. When I made an appointment they had asked me if I had a preference as to who I wanted to see. I told the receptionist that I had Asian skin so if I could get someone that is familiar with treating common Asian skin issues that would be fantastic. I was scheduled an appointment with Dr. Hui.At my first meet with Dr. Hui she confirmed that I did indeed have melasma and that my next step was to start getting chemical peels 4-6 weeks apart. Wow. Holy smokes! So far I've received 3 chemical peels and the melasma is almost gone. It's at the point where I am able to cover it up with just foundation. Yippee!  At my most recent appointment I received my first laser treatment with Mary. I had a 1pm appointment and was seen quickly to start the numbing process. I am one of those people that benifit from the extra time with the numbing cream so I appreciate that the ladies got me started immediately. I was so numb  that I barely felt a thing. Definitely one of the easiest laser procedures I have ever done."
- J.C. /
Yelp /
Dec 01, 2017
"I just can't say enough about Dr. Welsh and her team. Everyone who took care of me was super patient and knowledgeable. Dr Welsh answered all my questions - a lot of questions - and recommended a treatment plan. She and her team were all very kind and I feel like they really took the time to make sure I was comfortable. The experience couldn't have been better. Katie and Chelsea are my favorite for sure."
- R.I. /
Google /
Mar 09, 2020
"I have been a patient of Kathleen Welsh for a few years now and I will continue to go back to her for years to come. Dr. Welsh helped me clear my severe hormonal acne through both topical medications and oral medications. I have also received laser treatments to clear the scarring and redness caused by my acne. Fr. Welsh is the most understanding, kind, and smart doctor I have seen and I highly recommend her to anyone in anyone in need of dermatology services."
- S.D. /
Yelp /
Mar 08, 2020
"From the moment you walk into the office, you know you're at the best. I will not trust anyone else with my skin, so Dr. Welsh is just going to have to stay in practice forever! Dr. Welsh is an artist and there is no one better. She takes the words right out of your mouth as she gets to work and tells you what she's thinking which always matches exactly what I'm thinking! There is no one better, period. I always see Katie McCormick and Dr. Welsh, and have seen many others over the years. Every person in that office is at the top of their game and utmost professionals, with Katie being a stand-out. They run a tight ship and it's a wonder to watch everyone work as a team and like clock work. On a personal note, I'm shocked at looking at another review that is negative and even mentions racism. I don't want to begin a whole conversation here, but I felt I had to mention this as my husband and I run a non-profit for immigrants of every color and Dr. Welsh has been our biggest supporter. I am sorry for that reviewers experience, and haven't walked in her shoes, but my personal experience is that Dr. Welsh is kind, empathetic and compassionate, and makes certain that she surrounds herself with a staff that shares those same values. By the way, if you take a look around the office, you'll see many colors of skin. Also, it's literally Dr. Welsh's business to understand every color of skin and how each reacts to every procedure. I'm Native American and Dr. Welsh spoke to me about what that means for expectations and reactions when considering different treatment plans. Bottom line, I won't go anywhere else. Go see Dr. Welsh. You won't be disappointed. You will look the best you ever have!"
- T.T. /
Yelp /
Mar 08, 2020
"I'd like to thank Dr. Welsh for providing a second opinion that helped resolve a tricky dermatological diagnosis. She was kind and professional and asked all the right questions. I would definitely recommend her!"
- A.R. /
Yelp /
Mar 08, 2020
Previous
Next
Diet and exercise and at home devices?
There are multiple factors that contribute to cellulite and unfortunately at home treatments are often very temporary and don't reach the depths needed to target the collagen fibers and adipose tissue that are the main factors of dimpled skin. Luckily the EMtone can do just that!
Exilis Ultra?
If you loved our Exilis Ultra treatments for cellulite reduction, you will absolutely be thrilled with the EMtone. Incorporating pneumatic energy (think Zwave) while simultaneously delivering heat and radiofrequency allows tissue to reach a higher temperature while maintaining patient comfort. This means better results! Treatments can also be done twice a week getting you to your endpoint much quicker.
Sculptra?
EMtone is the perfect compliment to Sculptra. Sculptra injections allow us to fill in large dimples while the EMtone targets the remaining tissue and tightens the skin. Using both of these treatment options together yields maximum results.
Alastin Transform?
On its own, Alastin Transform has been the favorite at-home body product among our patients improving tone and texture. But paired with EMtone, Alastin has the power to enhance and speed up your results by using its LipoDRONE delivery system to accelerate the body's natural removal process of post procedure fat debris, while supporting the production of new collagen and elastin. Click here to purchase.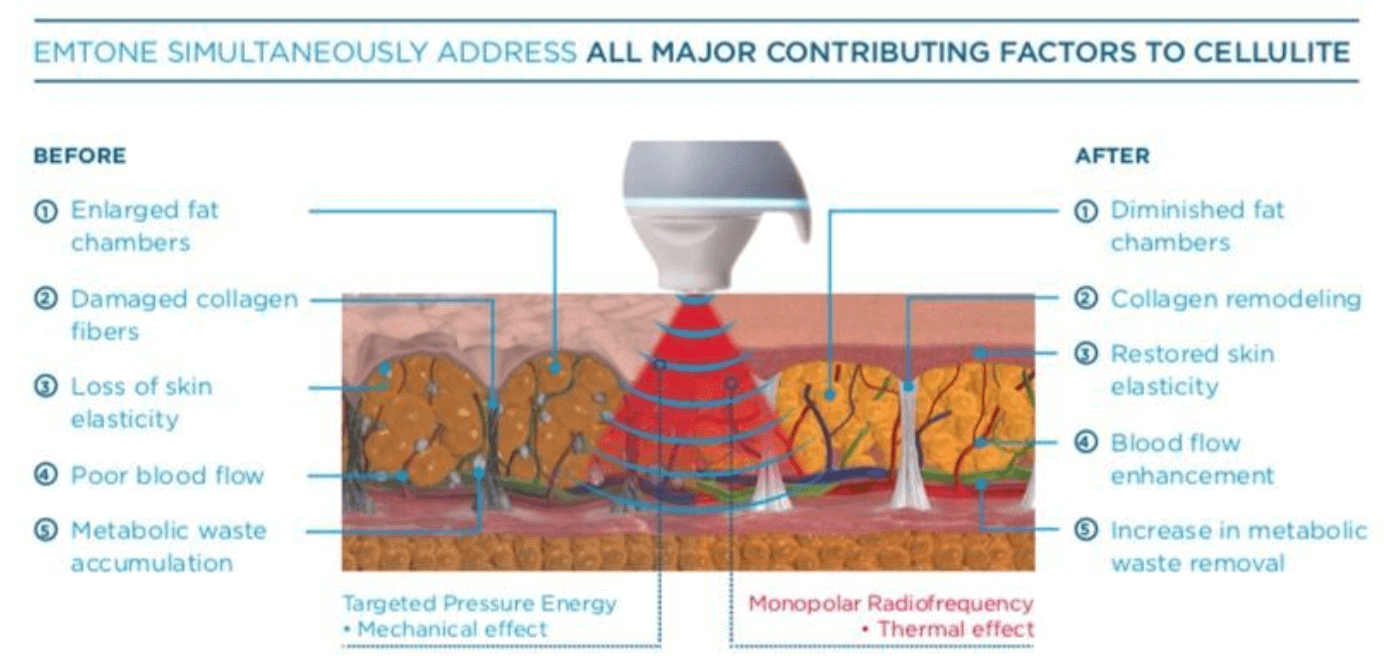 HOW DOES EMTONE WORK?
EMtone is the only device that simultaneously addresses ALL of the contributing factors to cellulite including diminishing fat chambers, remodeling collagen, restoring skin elasticity, enhancing blood flow and increasing metabolic waste removal in the treated area.
AM I CANDIDATE?
Do you have unwanted areas of cellulite? Then yes! EMtone is great for anyone looking to smooth and tighten their thighs, abdomen, arms, and even calves.
EMtone cannot be performed on women who are currently pregnant.
HOW MANY TREATMENTS WILL I NEED?
During your complimentary consultation, one of our body specialists will design your individual treatment plan. We typically recommend 6 treatments, scheduled 1-2 times/ week. A treatment for a single area takes approximately 30 minutes, but you may need to allow up to an hour in our office.
WHAT DOES THE TREATMENT FEEL LIKE?
Like an intense hot stone massage. We are also able to adjust settings and treatment techniques to adapt to your comfort level.
WHEN CAN I EXPECT TO SEE RESULTS?
Some patients see small changes even after their first treatment, however the full results take 2 months following your last visit.
IS THERE ANY DOWNTIME?
There is no downtime with the EMtone treatment and you can return to all normal activities immediately post treatment. The area will remain red for 20-30 minutes after your session.
HOW DO I PREPARE?
EMTone can only be applied on a body area which is free from hair. It is highly recommended that you shave the area on the day of your procedure. On the day of your procedure be sure to remove any jewelry in the treatment area. Other than that, there is no other necessary preparation required for an EMtone treatment, although it's always a good idea to come to your body treatments well hydrated.
BEFORE & AFTERS
Below you will see before and after photos courtesy of BTL Aesthetics,, the makers of EMtone. We will have more of our own to share soon!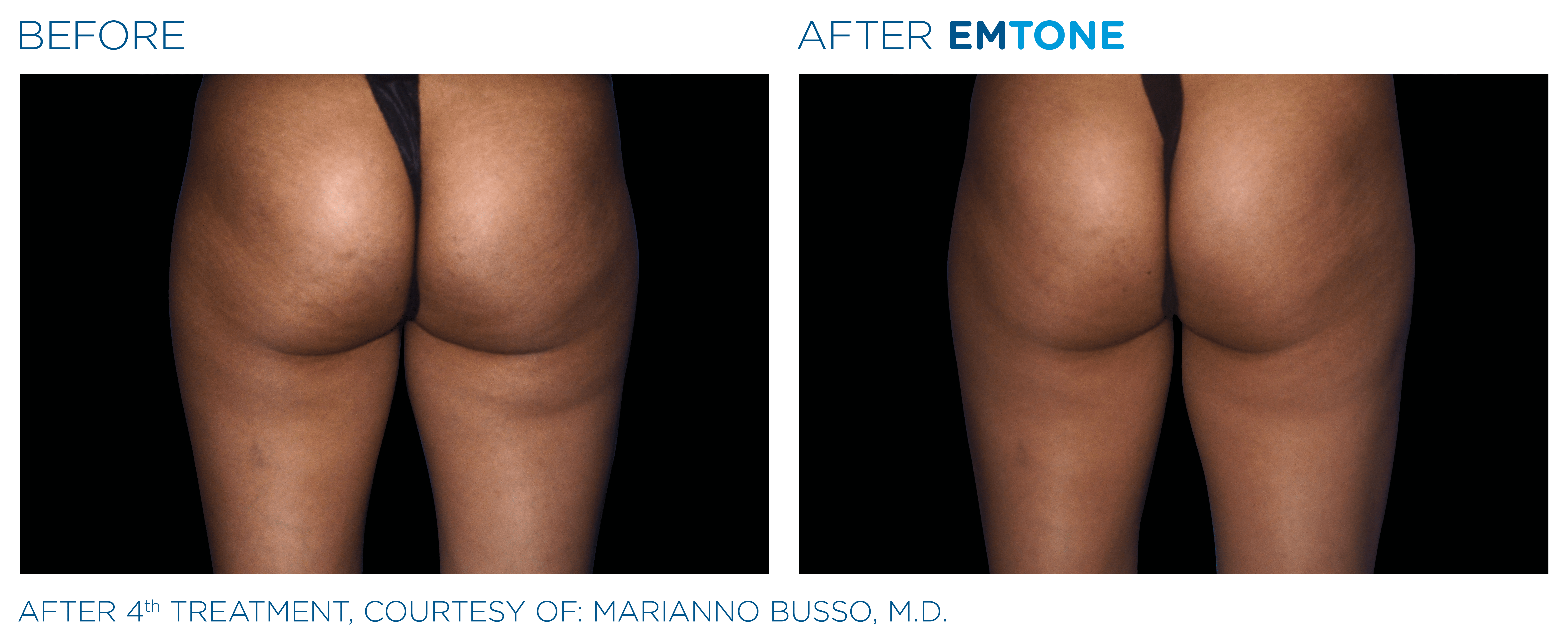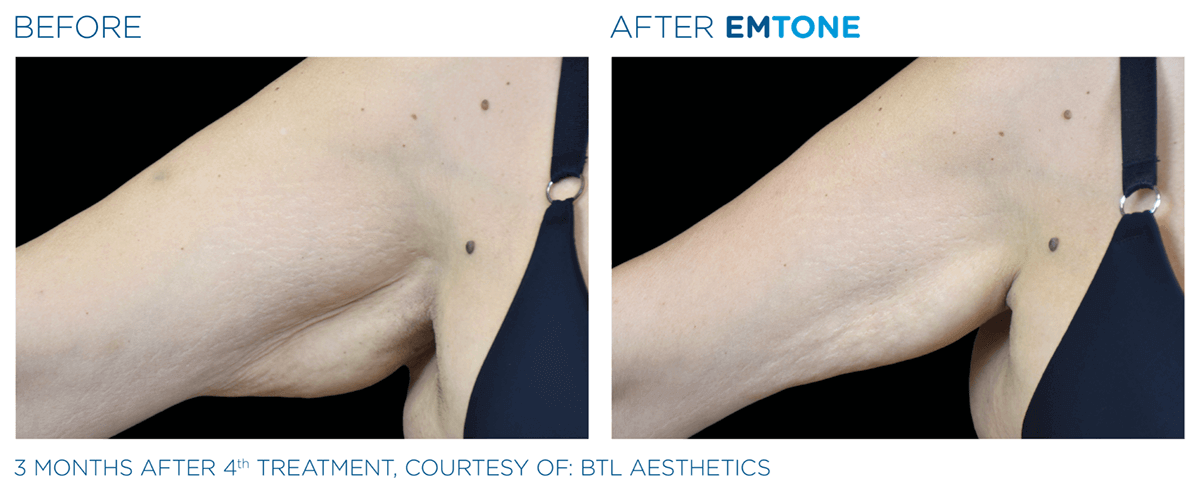 Related Posts