Emtone in San Francisco, CA*
CELLULITE HAS MET ITS MATCH
The EMTONE is the only device specifically designed to target cellulite. The bar has been raised and cellulite has finally met its match!
Have You Already Tried...
Diet and exercise and at home devices?
There are multiple factors that contribute to cellulite and unfortunately at home treatments are often very temporary and don't reach the depths needed to target the collagen fibers and adipose tissue that are the main factors of dimpled skin. Luckily the EMtone can do just that!
Exilis Ultra?
If you loved our Exilis Ultra treatments for cellulite reduction, you will absolutely be thrilled with the EMtone. Incorporating pneumatic energy (think Zwave) while simultaneously delivering heat and radiofrequency allows tissue to reach a higher temperature while maintaining patient comfort. This means better results! Treatments can also be done twice a week getting you to your endpoint much quicker.
Sculptra?
EMtone is the perfect compliment to Sculptra. Sculptra injections allow us to fill in large dimples while the EMtone targets the remaining tissue and tightens the skin. Using both of these treatment options together yields maximum results.
Alastin Transform?
On its own, Alastin Transform has been the favorite at-home body product among our patients improving tone and texture. But paired with EMtone, Alastin has the power to enhance and speed up your results by using its LipoDRONE delivery system to accelerate the body's natural removal process of post procedure fat debris, while supporting the production of new collagen and elastin. Click here to purchase.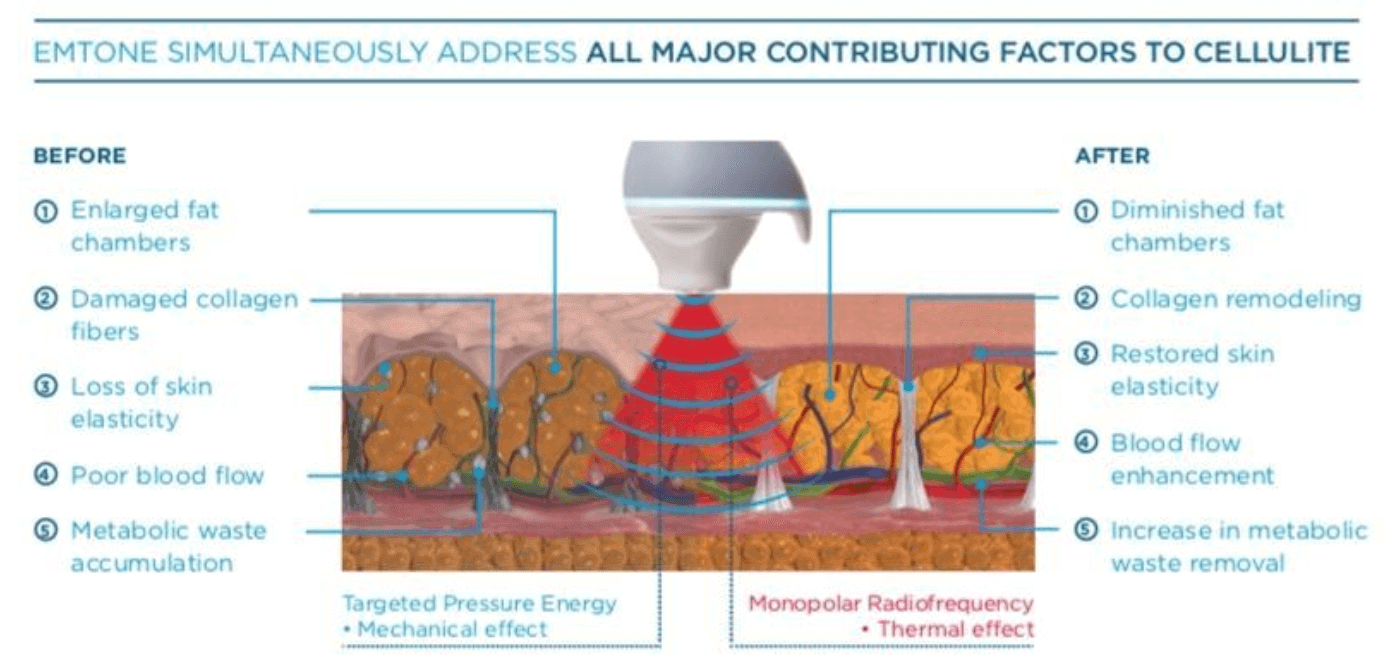 Bay Area Cosmetic Dermatology Reviews
I have been going to BACD since 1997 the staff and care I receive has been consist top notch.  I highly recommend Dr Austin - if you are looking for a leading edge practitioner in dermatology she is the doctor to go to! I've been seeing her for 3 years now, and at the onset we built a personalized plan that met my lifestyle, budget and goals.  It consists of in office treatments and an at home regime that has delivered amazing results. A Big thanks to Dr Austin for your commitment to excellence and the high standard of care you bring to me and each of your patients.
Dr. Austin and the wonderful team at BACD changed my life. I have always had eczema, but it was manageable. During the pandemic, I had a severe flare that covered my whole body and was so painful. It would not go away, and persisted for over a year. My old treatments did not work. I went to see Dr. Austin who took action, made a plan, and supported me throughout the treatment. Within 6 weeks, my skin was clear and has stayed that way. I am pain free. Now, she is helping me look and feel my best. BACD puts patients first. They support you with medical expertise and true care. Highly recommend!
Everyone at BACD is amazing! I have never had anything but a great experience!
The BACD team is top notch. Bringing leading preventative care solutions in office and personalized at home care routines. I know when I leave I have the exact program I need to maintain my skin health!
Dr. Welsh and her staff are the best! I've been coming here for over 20 years and I highly recommend BACD.
Get In Touch
Learn More About Bay Area Cosmetic Dermatology
About Us
Before & Afters