Dr. Steven Y. He is a Board-Certified Dermatologist who joined Bay Area Cosmetic Dermatology in August, 2019.
Bilingual in English and Mandarin, Dr. He specializes in a wide range of general, surgical and cosmetic dermatology, including treatment of acne, acne scarring, rosacea, melasma, sun spots, skin cancer screening / treatment, eczema, psoriasis and vein therapies via sclerotherapy / lasers.
He is an expert in facial / neck rejuvenation and natural-appearing wrinkle reduction via the use neuromodulators (Botox / Xeomin / Dysport), thread lifts, dermal fillers (Restalyn / Juvéderm / Belotero / Radiesse / Sculptra) and chemical peels. He performs PRP (Platelet-rich-plasma) treatments and is passionate about developing a personalized treatment plan to help you overcome hair loss disorders. He performs surgical dermatology for the removal of skin cancers and benign skin growths. Dr. He also can be consulted for skin tightening, body contouring and performs Kybella for area-specific fat reduction.
A large part of his practice, Dr. He enjoys cosmetic laser treatments for skin rejuvenation, brown spots, blood vessels, collagen stimulation and a wide range of scar conditions including for acne scars and keloids.
Dr. He would love to help you develop a personalized daily skincare regimen to promote lifelong healthy and youthful skin.
Dr. He hopes to bring a holistic approach to skin wellness, including diet and fitness in balance with optimizing other systemic medical conditions. As an avid triathlete, you can find him swimming, biking, and running around the San Francisco Bay Area. Dr. He also enjoys local fitness classes including Barry's Bootcamp and Flywheel, as well as exploring the local farmer's market and eateries.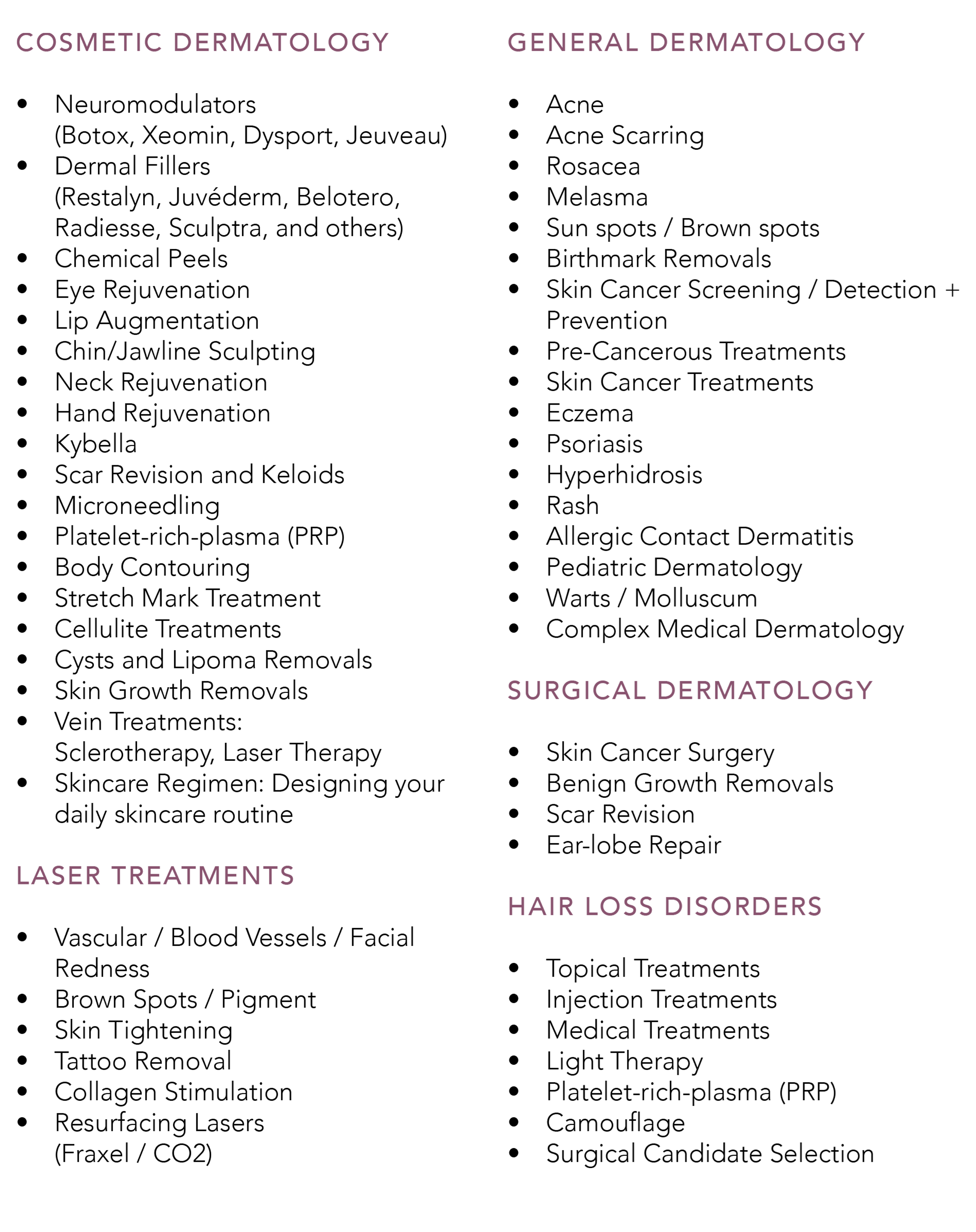 Every day, I am grateful to be a physician and value the privilege of helping you with all your skincare needs. Being a patient myself, I appreciate all the amazing medical advancements that help us live a healthy life and understand the impact of disease on our overall wellbeing. I strive to deliver the most compassionate dermatologic care using the latest state-of-the-art diagnostic and treatment technology to provide an individualized treatment plan for you. I find it exceptionally rewarding to be involved in treating various general, surgical, and cosmetic skin conditions for my patients.
_____________________________________________________
My medical dermatology approach emphasizes skin disease prevention, early detection and treatment of the underlying cause with a goal for cure.
My cosmetic dermatology approach aims to maintain your unique, underlying beauty and natural expressions with a strong emphasis on less is more towards graceful aging.
_____________________________________________________
If you come to meet me, trust that I am doing my absolute best to take care of your skin in every way possible. We will partner together on your skincare journey to achieve healthy, youthful skin. My patients come from all walks of life and from various corners of the world. Whether you come for a single visit to seek a second opinion or to establish care for a lifetime, I look forward to meeting you.
Dr. He was born in Hebi, China and came to the U.S. at the age of 8. He was raised in Los Angeles, and attended the University of California, San Diego, where he majored in Biochemistry and Cell Biology, and minored in Political science. Dr. He graduated Summa Cum Laude and was selected by the college as the Flag Bearer during graduation.
He completed his medical training at the University of California, San Francisco School of Medicine, where he was elected to the Alpha Omega Alpha (AOA) medical honor society and served as Co-President. Dr. He moved to Boston to complete his internal medicine preliminary internship at Beth Israel Deaconess Medical Center, Harvard Medical School.
He then completed his dermatology residency at Weill Cornell Medicine / New York Presbyterian Hospital and Memorial Sloan Kettering Cancer Center in New York City. While in New York, he trained in various advanced cosmetic and laser dermatologic procedures for skin rejuvenation.
Dr. He has won numerous awards and research grants for his research on cosmetic laser treatments and skin cancer therapies. He finds it very meaningful to help advance the field of dermatology and has presented his work both nationally and internationally at various leading dermatology conferences.
Many of his works have been published in the Journal of American Academy of Dermatology, the Journal of the American Medical Association (JAMA) Dermatology and the British Journal of Dermatology. He is a member of the American Academy of Dermatology, American Society for Dermatologic Surgery, and the American Society for Laser Medicine and Surgery.
Dr. He is a big believer in service and helping those who are in need. He has volunteered all of his life, from mentoring underserved college students in Central California to serving food at Mama's kitchen to coordinating the 5th St. Homeless clinic in San Francisco.
Reviews
"I visited Dr. Austin for a skin consultation after receiving a recommendation from one of my friends who sees Dr. Austin for Botox (Xeomin) injections and to review & remove any suspicious moles/freckles and review skin damage on my neck.  Her office staff are very friendly & helpful. After washing my face (they provide makeup pad removers, facial wash & a hair band), photos were taken including one with a camera to determine sun damage. Dr. Austin has a very positive, glowing energy about her & was very easy to speak with about my skin concerns. After a full review of my skin & my skincare regimen, I got 20 units of Xeomin in my forehead & removal of a mole that was progressively getting larger on my upper lip. Thankfully the lab report indicated that it was benign. I visited again about 10 days later for additional freckle removal & treatment for sun damage on my neck, as well as a check in for my Botox injections to see how it settled in. The Botox looked great & my skin was smooth. I've healed up from my 2nd visit & my skin looks great.Her strongest recommendations is to always wear sunblock (I wear 2-3 layers on my face but I forgot to apply on weekdays to my neck when I was living in Hawaii which resulted in 15 years of sun damage while driving )."
P.M.
Yelp
"What an incredibly professional and heart felt office.  I have to say that my visit was like no other Dermatology office I have been to.   I worked in the Dermatology field for over 13 years and have worked with many Dermatologist.  Dr. Andrea Hui Austin is like no other.  Her professionalism and exceptional knowledge is astonishing.  She takes the time to get to know you which in my opinion really helps her as a provider get to know what will work best for her patients.  my treatments with Dr. Andrea Hui Austin are spot on, she has brought my skin back to life.  Lets not forget the staff and how they make a patient feel cared for from check in to check out.Couldn't have asked for a better experience.Five stars all the way!"
R.H.
Yelp
"I am not exaggerating when I say that Dr. Andrea Hui Austin is a LIFE CHANGER. I've been seeing her for almost two years now for treatment of my rosacea and acne and skin is clearer than it's ever been, clearer than I ever hoped it would be. I first started seeing Dr. Austin in 2019, a few months after I turned 31. I'd been diagnosed with rosacea in middle school and had otherwise had fairly clear skin until I reached college. In college, I started breaking out more and more frequently until my acne was basically chronic. Some people in my family had late-bloomer acne, so I told myself it would probably just clear up as I got older, and I tried to take the best care of my skin that I could in the meantime. I tried every OTC treatment under the sun, went on different diets, and saw a series of dermatologists who put me on a range of topical medications and oral antibiotics. Nothing made much of a difference and by my late 20s I'd was so close to giving up and resigning myself to having bad skin for the rest of my life, although it made me feel miserable.That's when I realized that the one thing I hadn't tried was seeing a dermatologist who specializes in treating rosacea. I did some googling and Dr. Austin's name came up again and again, so I scheduled a consult. My expectations weren't high, given how little luck I'd had before. But Dr. Austin completely blew me away in the consult. Not only was she able to explain why my rosacea was causing these breakouts, but I was blown away by her empathy; she started the appointment by asking me to tell her about my history of rosacea and acne and after I went through the litany of things I'd tried she said, "I'm so sorry you had to go through that." It made me tear up to feel like someone cared and understood how much having bad skin can take a toll on self-esteem.She started me on a routine of oral medication and new topical skincare products, and did an excellent job of answering all my questions and explaining how each product or medication worked and why it was necessary. I noticed a difference in my skin within weeks, and once the breakouts were more under control we began a series of laser treatments to help tame the rosacea. As my skin continued to heal and improve, the treatments became less frequent, and I'm now at the point where I only have them a few times a year. My skin has healed enough that she's also able to address the scarring I have from acne and, honestly, that's a milestone I never thought I'd reach until I started working with her. She's continued to be a thoughtful and kind person, celebrating the milestones with me as my skin healed, remembering details about my personal life, and engaging me in conversation during the treatments; I feel like she really cares.As a bonus, the whole BACD staff is competent, professional, and friendly. They keep things running smoothly, call/email back quickly, and have a very flexible auto-ship program that sends my topical products to me four times a year. BACD has done a sterling job of adapting to the pandemic--they've put up signage, spaced out appointments, created physical distance in the waiting room, and changed their payment process so you pay in the treatment room. I've noticed some other places get lax with these types of measures as the pandemic has gone on, but BACD has been incredibly consistent, which I appreciate.If you have rosacea and acne, Dr. Austin is your gal. She's truly and completely changed my skin in a way I never thought possible. I highly, highly recommend her!(The photos I've included from her office are from before the acne scarring treatment; the personal photos I included are after one acne scarring treatment. No digital filters, no makeup or concealer in any of these photos!)"
L.S.
Yelp
"When I turned 40, I decided to find the best cosmetic dermatology office in San Francisco for guidance and treatment. I praise the skin gods that I met Dr. Austin. She quite literally changed my skin… for the better. She's listened to me, heard my goals and gave me a skin plan that I followed to a T. Two years in, my skin is balanced, bright, and healthy - dare I say youthful :-) if you want the best, don't look any further."
T.C.
Google
"This review is long overdue! Dr. Austin is incredible at treating rosacea!! Dr. Austin has been life changing for me and my skin. I found her online from searching frantically for someone for years in the Bay who had experience working with rosacea. Rosacea started for me in my early 30s, what felt like out of no where during grad school. After trying many other things, including strictly cutting out foods that were irritating I was still having intense rosacea breakouts. Dr. Austin took pictures, explained what was happening and we went over my skin routine. I learned how there are different types of rosacea, she explained what can irritate it (which can include natural oils!) and then she gave me a very specific skin care routine with products. I saw results almost immediately after using sticking to the topical routine. I recently saw her after 3 years of sticking to my regimen and my skin has greatly improved. I flare maybe a few times a year with stress but it will usually go away that day with combo ointment meant for rosacea. I have even seen lines on my forehead go away with one of the topicals, an added bonus! She is also very encouraging, has a warm bedside manner. If you have been dealing with skin issues and the confidence behind that look no further, Dr. Austin is worth it!"
K.P.
Yelp
Related Posts