Dr. Steven Y. He is a Board-Certified Dermatologist who joined Bay Area Cosmetic Dermatology in August, 2019.
Bilingual in English and Mandarin, Dr. He specializes in a wide range of general, surgical and cosmetic dermatology, including treatment of acne, acne scarring, rosacea, melasma, sun spots, skin cancer screening / treatment, eczema, psoriasis and vein therapies via sclerotherapy / lasers.
He is an expert in facial / neck rejuvenation and natural-appearing wrinkle reduction via the use neuromodulators (Botox / Xeomin / Dysport), thread lifts, dermal fillers (Restalyn / Juvéderm / Belotero / Radiesse / Sculptra) and chemical peels. He performs PRP (Platelet-rich-plasma) treatments and is passionate about developing a personalized treatment plan to help you overcome hair loss disorders. He performs surgical dermatology for the removal of skin cancers and benign skin growths. Dr. He also can be consulted for skin tightening, body contouring and performs Kybella for area-specific fat reduction.
A large part of his practice, Dr. He enjoys cosmetic laser treatments for skin rejuvenation, brown spots, blood vessels, collagen stimulation and a wide range of scar conditions including for acne scars and keloids.
Dr. He would love to help you develop a personalized daily skincare regimen to promote lifelong healthy and youthful skin.
Dr. He hopes to bring a holistic approach to skin wellness, including diet and fitness in balance with optimizing other systemic medical conditions. As an avid triathlete, you can find him swimming, biking, and running around the San Francisco Bay Area. Dr. He also enjoys local fitness classes including Barry's Bootcamp and Flywheel, as well as exploring the local farmer's market and eateries.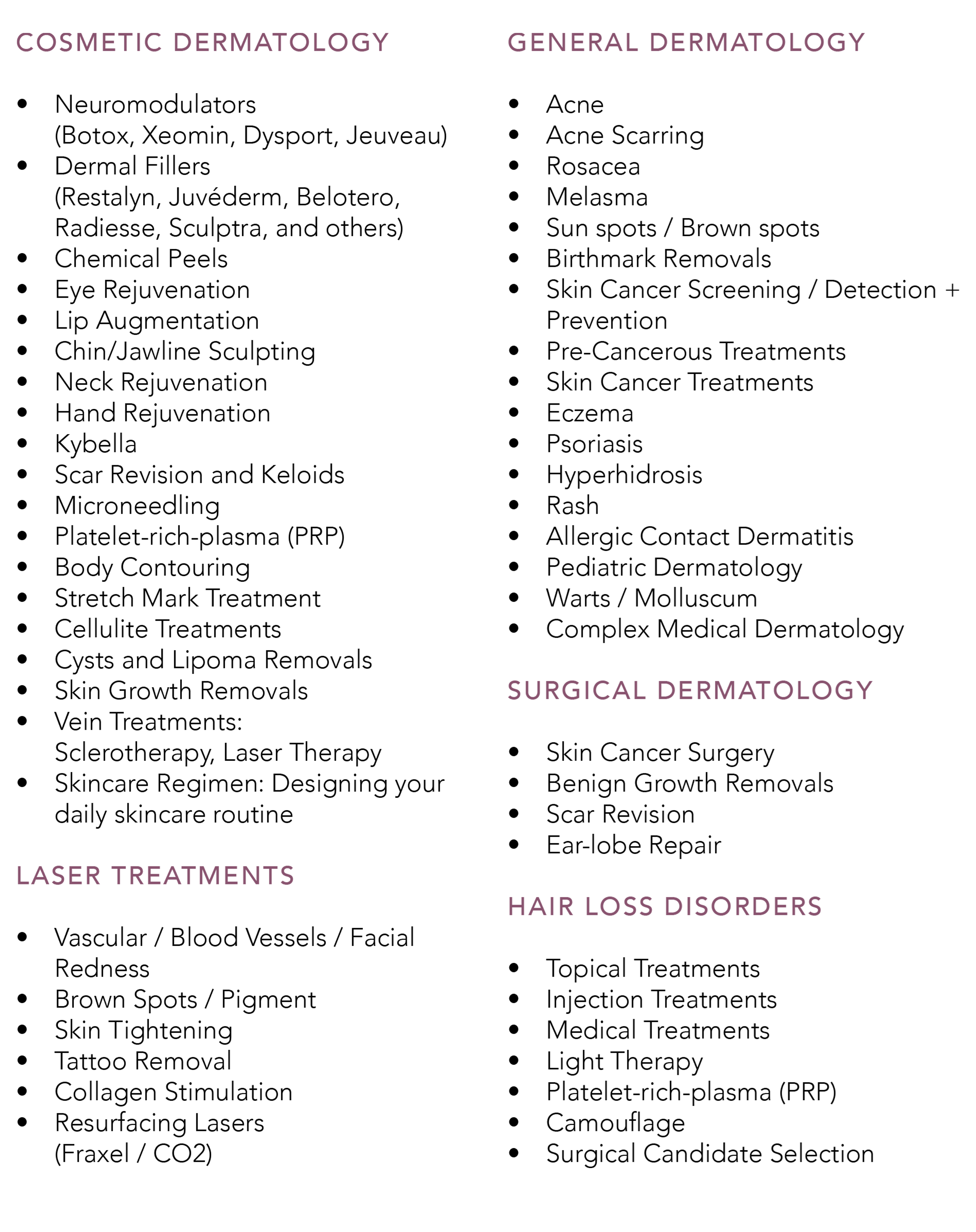 Every day, I am grateful to be a physician and value the privilege of helping you with all your skincare needs. Being a patient myself, I appreciate all the amazing medical advancements that help us live a healthy life and understand the impact of disease on our overall wellbeing. I strive to deliver the most compassionate dermatologic care using the latest state-of-the-art diagnostic and treatment technology to provide an individualized treatment plan for you. I find it exceptionally rewarding to be involved in treating various general, surgical, and cosmetic skin conditions for my patients.
_____________________________________________________
My medical dermatology approach emphasizes skin disease prevention, early detection and treatment of the underlying cause with a goal for cure.
My cosmetic dermatology approach aims to maintain your unique, underlying beauty and natural expressions with a strong emphasis on less is more towards graceful aging.
_____________________________________________________
If you come to meet me, trust that I am doing my absolute best to take care of your skin in every way possible. We will partner together on your skincare journey to achieve healthy, youthful skin. My patients come from all walks of life and from various corners of the world. Whether you come for a single visit to seek a second opinion or to establish care for a lifetime, I look forward to meeting you.
Dr. He was born in Hebi, China and came to the U.S. at the age of 8. He was raised in Los Angeles, and attended the University of California, San Diego, where he majored in Biochemistry and Cell Biology, and minored in Political science. Dr. He graduated Summa Cum Laude and was selected by the college as the Flag Bearer during graduation.
He completed his medical training at the University of California, San Francisco School of Medicine, where he was elected to the Alpha Omega Alpha (AOA) medical honor society and served as Co-President. Dr. He moved to Boston to complete his internal medicine preliminary internship at Beth Israel Deaconess Medical Center, Harvard Medical School.
He then completed his dermatology residency at Weill Cornell Medicine / New York Presbyterian Hospital and Memorial Sloan Kettering Cancer Center in New York City. While in New York, he trained in various advanced cosmetic and laser dermatologic procedures for skin rejuvenation.
Dr. He has won numerous awards and research grants for his research on cosmetic laser treatments and skin cancer therapies. He finds it very meaningful to help advance the field of dermatology and has presented his work both nationally and internationally at various leading dermatology conferences.
Many of his works have been published in the Journal of American Academy of Dermatology, the Journal of the American Medical Association (JAMA) Dermatology and the British Journal of Dermatology. He is a member of the American Academy of Dermatology, American Society for Dermatologic Surgery, and the American Society for Laser Medicine and Surgery.
Dr. He is a big believer in service and helping those who are in need. He has volunteered all of his life, from mentoring underserved college students in Central California to serving food at Mama's kitchen to coordinating the 5th St. Homeless clinic in San Francisco.
Reviews
"Loved It! - I'm pretty slim and everyone told me I was crazy to do this. I was slim, but not fit, and my abdomen always bothered me, after 5 treatments waist is about 2 inches smaller and I kinda have a 4 pack. I just signed up to do my butt too."
B.
RealSelf
"Let me start by saying, I highly recommend Dr. Steven He! I have severe eczema and have tried everything after seeing multiple doctors (I moved from SF to LA last year). NOTHING has worked. The last physician asked me, "what do you want, nothing will cure it so let's just try another cream". Pretty much the consensus with all doctors -- nothing I can do about it! It's incredibly depressing when people ask you what's on your face, your arms, your legs... my niece always refers to them as "boo-boos". And everyone has advice on how to cure eczema - let me tell you! I have tried every diet, all kinds of supplements, juicing... nothing worked. I have been walking around in LA weather wearing long sleeves all the time because I'm tired of hearing the questions. On a whim, when I'm in SF, I call Dr. Welsh's office. I was desperate for help and the staff offered me to see Dr. He. I went in with low expectations since no other physician has been able to help me. What I didn't realize is the absolute compassion that Dr. He and the staff showed me the moment I walked in the door. I cried as I told the assistant about my eczema. I continued to cry as Dr. He walked in and started talking to me. I'll never forget when he said, "Eczema is a disease, you were born with it, and you didn't cause this!" I told him that I was depressed because and felt bad about it because so many other people have worse problems. He said, "People with eczema suffer the same depression as people with serious diseases." He also told me, "I have something that can cure you." You can imagine my excitement. However, the excitement didn't last long. The cost of the medication (Dupixent) was exorbitant -- 5K per month! We started talking about other treatment plans but Dr. He told me that he would find a way to get me this medicine. He gave me cortisone for the eczema flare-ups, creams and said he'd be in touch. And he certainly was. The same evening, he called and told me to come to the office in the morning and sign paperwork so that I could get Dupixent through a patient assistance program. We would try to make it work, he said. The next morning, the paperwork was all filled out, and all I had to do was sign it. Dr. He spent even more time with me talking about how Dupixent works and said he would do everything to get the medicine for me. I left feeling hopeful. After speaking with the folks at Dupixent, I was, in fact, approved! My first shipment would arrive the following week and I could start the new medicine. It's been over a month, and my skin has already vastly improved from Dupixent. Dr. He has checked in on me consistently to make sure I'm doing OK. I even had some slight reactions and we talked those through and he reassured me that everything was fine. I don't know any physician that would take the extra time and care that Dr. He has done for me. Long story short -- go see Dr. He! Everyone at Dr. Welsh's office is amazing, but I highly recommend Dr. He, especially if you have a serious skin issue and need the care, compassion, and knowledge that he provides. To say he has gone above and beyond is an understatement. He's changed my life. Thank you, Dr He!"
H.M
Yelp
"Dr Steven He is the best! I've visited this office in the past and have seen Dr Welsh and Dr Hui occasionally throughout the years but Dr He will be my go-to dermatologist. He was so nice, so knowledgeable and really took his time with me. Follow up call to check in with me after some Botox, felt very taken care of! Evaluated my skin and noticed things other doctors hadn't noticed, along with lots of tips and tricks at home to try, talked through a treatment plan and targeted product recommendations but not pushy at all. I learned a lot about my skin from the appointment with him. Fiancée said today that my face has been looking so flawless lately. Thanks Dr He!!"
T.Y.
Yelp
"A miracle in San Francisco!! I moved from the East Coast, and so was fairly spoiled with some of the best cosmetic dermatologists in the U.S. However, now my concern is what on earth I will do WITHOUT Dr. He if he ever leaves the Bay Area. I can't say enough how lucky we are to have someone with that kind of natural artistry with filler here. He both incredibly knowledgeable and patient-focused, tailoring treatments and regimens to fit needs/budget and responding to last-minute skin care "emergencies" or concerns. If you are considering Botox, Filler, laser treatments, or peels and are in the Bay Area, I would DEFINITELY give BACD a call."
?.M.
Yelp
"I strongly recommend this practice. Dr. Welsh, Dr. Austin, and Dr. He are so brilliant and help you take back control of your skin. I've been with this practice for 4+ years. In addition to the results they achieved for my skin, it's the staff and the providers who keep me coming back. I appreciate the level of professionalism and consideration BACD has for all of their clients. The doctors are so smart and truly take time to understand your problem, and recommend the right treatment to deliver the fastest possible solution. I struggled with acne my entire life; in my first consultation with Dr. Austin she recommended a daily topical (tretanoin) and specific treatments (e.g Hydrafacial and Laser to break up  redness!). Ever since then my skin improved drastically. I hardly recognize myself in the mirror today. It's truly incredible how small changes can deliver drastic results. Recently, I met their newest physician Dr. Steven He. He is LOVELY and a true dermatology prodigy! All MDs at this practice will provide you with the information you need to treat your skin. Dr. He, in particular, is always willing to answer questions and has a magical way of breaking down the science of skincare in a way that is easy to understand. He is also very friendly and cute -- LOL! Thank you Dr. Welsh, Dr. Austin and Dr. He for all of your support over the past few years. I am so fortunate to be a client at your clinic."
R.T.
Yelp
Related Posts