What is Alopecia and can it be treated by a dermatologist?
WHAT IS ALOPECIA?
Alopecia simply means hair loss and does not pinpoint the actual diagnosis. It can be genetic ( male-pattern baldness) or caused by medical conditions such as hypothyroidism, or even stress. The onset of alopecia varies depending on cause; it may be rapid onset or gradual.
HOW DO WE DIAGNOSIS ALOPECIA? 
Actual diagnosis of alopecia requires careful examination by a dermatologist, a review of your medical history and sometimes additional testing including lab work or a scalp biopsy.
WHAT CAUSES SUDDEN HAIR LOSS? 
• Vitamin Deficiency: Low levels of Vitamin D and Iron are associated with hair loss. More information about the role of vitamin deficiency and hair loss here . 
• Some medications/ supplements including anticoagulants (blood thinners), beta-blockers, antidepressants, and antiretrovirals. If you are concerned hair loss may be related to a medication you are taking, talk to your doctor.
• Any severe illness that puts a high level of stress on the body, high fever, thyroid disease, chemotherapy or even childbirth can contribute. As hair rapidly cycles from a growing phase to a resting phase, hair can start to fall out in clumps or easily pull out when you run your hands or a brush through it. It's not uncommon to lose 50-100 strands of hair a day.
CAN YOU TREAT ALOPECIA? 
We use various treatments to increase hair growth; one of which is platelet-rich-plasma (PRP). Through a quick blood draw in office, we're able to harvest your body's own growth factors and inject them back into your scalp to stimulate hair growth.
If you're experiencing Alopecia and want to explore treatment options, contact us for a con sultation with one of our board-certified dermatologists.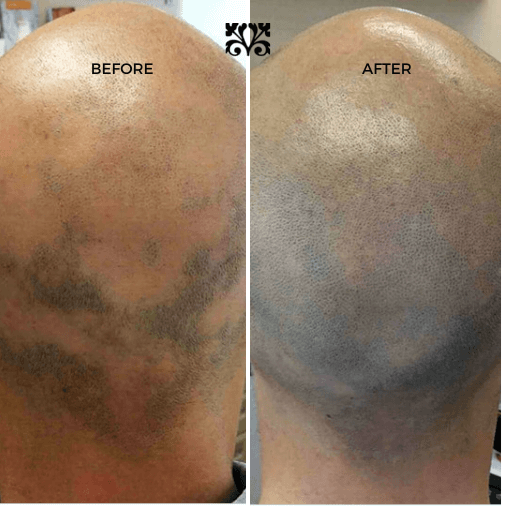 Learn more and see additional before and afters of our patients here.