How To Protect Your Skin From Smoke, From Our Derms
CLEANSE OFTEN
We recommend cleansing your skin as soon as you're able to after coming in from outside. Two of our favorites are Obagi Gentle Cleanser and NeoCleanse Gentle Cleanser but use your cleanser of  choice. 
If you are walking to and from work, you may consider throwing cleansing pads in your bag to wipe off grime when you arrive at your destination. We've been heavily leaning on our BACD Antixodiant Cleansing Pads . 
USE AN ANTIOXIDANT IN AM & PM
Applied in the morning, antioxidants aid in protecting your skin from pollutants encountered during the day. Applying again in the evening helps counteract some of the oxidation that has previously occurred. This is true no matter the air quality as we are always coming into contact with external pollution. More about antioxidants with Dr. Austin below. 
STAY HYDRATED
Always vital but even more so as the air is incredibly dry when we are experiencing wild fires. Drink plenty of water and moisturize your skin after cleansing.
DON'T SKIP SUNSCREEN
Even though when smoke fills the sky, it may feel like the sun is blotted out, there continues to be UV penetration and consistent use of SPF is important. Apply SPF of 30 or higher daily.  
PURIFY YOUR AIR
Swiss-made IQAir seems to be the top of the line at the moment, but Dyson HEPA purifiers are also fairly effective.  
MASKS
At this point, we're all face mask pros but most of the commonly used masks don't actually protect us against the specific toxins being carried by the wildfire smoke. 
If you have an N95 mask, use it! These are the most effective. However, many of us still don't have access to N95s so you may consider using a physical barrier such as a face shield + your mask of choice when outside to help reduce the amount of particulate matter you inhale.
Wearing two masks may provide some additional protection from a practical point of view but we are unaware of any studies that support this. Anecdotally, our staff has found doubling up on masks to be helpful.
VITAMIN D
When air quality falls into unhealthy ranges we tend to stay inside even more than we have been. Many of us are becoming Vitamin D deficient. Make sure you are taking Vitamin D3 at least 1000-2000 units a day. It's essential for mental health, bone health, and immune support! Nutrafol hair supplements grow lush thick hair and supply 2500 IU of Vitamin D/day. You can also purchase VitaminD3 gel caps or gummies.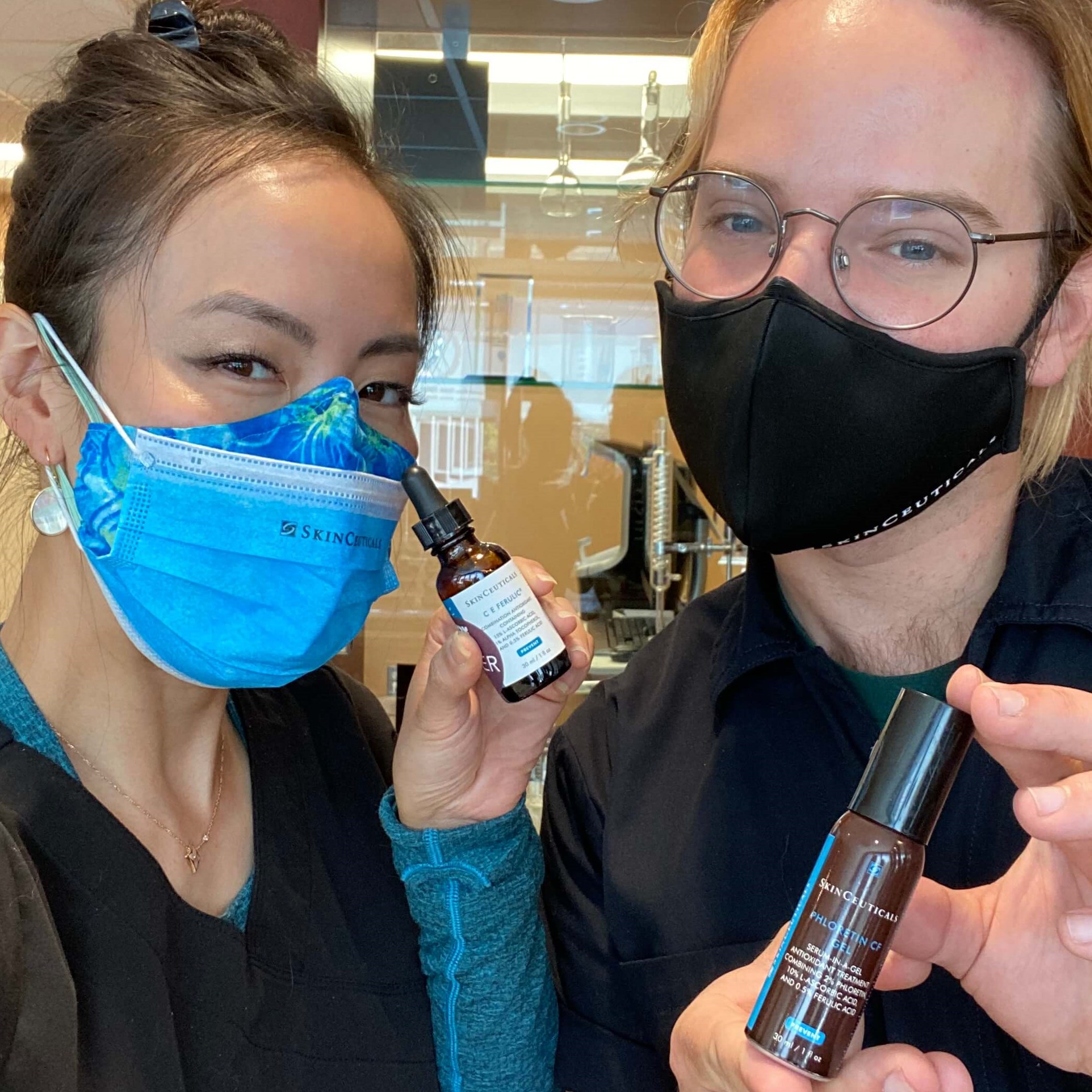 "Due to smoke and pollutants, free radicals can cause toxic damage to collagen and skin DNA. Just like you wear a mask to protect your lungs, we recommend the #1 antioxidant serum to protect your skin. Skinceuticals CE Ferulic has been my favorite antioxidant serum for over a decade. Apply CE Ferulic serum on your face, neck, chest, and exposed areas every morning. Not only does this protect you from harmful UV radiation, but this also helps to "quench" (get rid of) free radicals and prevent DNA and collagen damage. For oily skin, I recommend Phloretin CF Gel , which works similarly but with a lighter feel."
- Dr. Austin