Non-Invasive Body Sculpting Treatments for All of Your Goals
I am not easily dazzled. Having worked in the cosmetic industry for over a decade I've seen my fair share of fads, failed devices and overpriced creams that underdeliver.
Yet still, I'm constantly on the lookout for new body sculpting technologies. Dr. Welsh and I attend trade shows, speak directly to manufacturers and pepper their science teams with questions. We want devices that deliver REAL results for REAL people. This is why we've always had a very carefully curated selection of body sculpting devices and products in The Body Clinic.
Working as a body sculptor since 2009 has given me the chance to meet with thousands of different real people and talk to them about what sort of real results they're after. More often than not, people come in wanting to change one thing. You know... that one single thing that if you could change would restore major confidence in your own body.
Goals fall along the lines of looking good in a sleeveless dress or pair of favorite jeans. Or reaching a place long hours in the gym can't quite achieve. Or if 'just this didn't jiggle so much.' The motivation is rarely to look like a supermodel or do a ton of different treatments.
Being a part of this process, dialing down to the thing that allows a patient to walk into the world feeling like the best version of themselves is truly my favorite aspect of my job. We design body sculpting plans backwards from your goal and look for ways to achieve it with the fewest amount of treatments.
Although the cosmetic industry is one of constant churn and new devices and products are never in short supply, the actual technologies behind them tend to advance at a slower clip. We've simply been missing a few of the bigger pieces to the puzzle.
But not anymore! This past two years has provided us with giant technological leaps forward, providing us with what we knew was lacking.
And now, for the first time, The Body Clinic has what even I would call a dazzling suite of non-invasive body sculpting devices.
Like never before, our current collection of technology allows us to fine tune truly customized plans for all your 'one things.'
Fat reduction? All day. Muscle toning? Oh yeah. Skin tightening? Absolutely. Cellulite? Match met.
CoolSculpting and Vanquish  ME remain our  gold-standards for fat reduction and de-volumizing. If desired, we then may move onto further polishing with skin tightening, muscle toning or cellulite treatments. The latter three are often performed on their own, as well.
The EMtone landed in late 2019 and quickly skyrocketed to become one of our top treatments. My personal before and afters with EMtone are pictured below.
I'm elated how it not only tightened and toned the skin but actually reduced the circumference of my entire thigh (and I celebrated this fact with a Taco Xpress burrito, because, well, that's how I celebrate!)
EMSculpt made a  splash in 2019 and hasn't stopped wowing me or our patients since. We have multiple applicators allowing us tone and build define muscle in the abdomen.
*Update as of 07.2021: 
We now offer the EMsculpt NEO, the latest  generation of muscle building and fat reduction  technology. With multiple handpicks we can treat larger muscle groups like the abs and buttocks as well as smaller areas such as the arms, calves.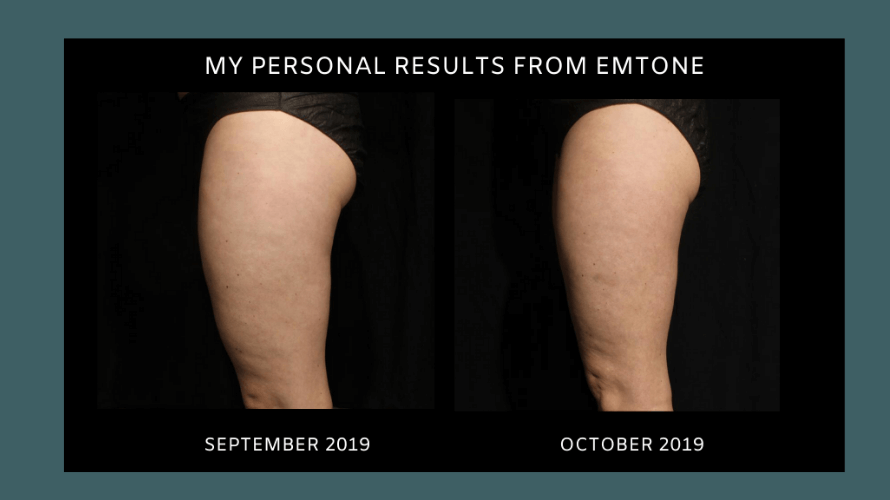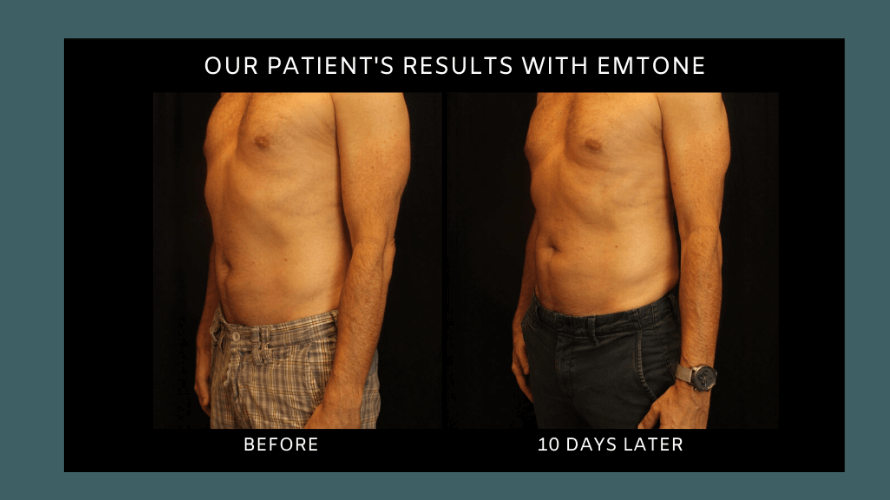 It's an honor to work with our patients and if I can help you with just one thing, I'd love to meet you for a complimentary body consultation, not to dazzle you but to provide you with REAL results.
The Body Clinic: 415-292-7950 | [email protected]