Why We're Obsessed with this New At-Home Treatment
As a women-led practice we are ever on the hunt for services and treatments (whether in office or at home) to help our patients live life to the fullest. We deeply believe the aging process can be both enjoyable and graceful. One of these areas is of the more sensitive variety - the pelvis and vagina. Many of us are familiar with the aging that happens to this particular part of the body whether caused by childbirth, surgery or hormonal shifts such as menopause.
Patients often wonder why dermatology clinics offer services that address pelvic and vaginal aging issues. Interestingly, for many of these types of treatments the common denominator is that they affect change by improving cellular turnover and collagen production. Both of which are very much in our dermatology wheelhouse. We talk about and improve our patient's cellular turnover and collagen productions every. single. day. We are nothing short of dyed-in-the-wool collagen experts.
To this end, we most recently brought on an exciting topical treatment called CO2LiftV which,  you guessed it, helps turn over cells and increase collagen production for some of our most sensitive bits. We're especially pleased because this is a treatment we can do in the privacy of our own homes!
We asked Mary Krempa, RN and our go-to V specialist to help explain why this new product is so revolutionary. 
Mary, thanks for sitting down with us today! Can you tell us what the CO2LiftV is?
CO2 Lift is an at-home treatment that encourages your body to hyper-oxygenate the vaginal and vulvar tissues, improving the sensation, appearance, lubrication, and thickness of the vaginal wall - so it's really a holistic treatment that addresses a lot of our concerns simultaneously.
What does hyper-oxygenate mean exactly? 
CO2 Lift utilizes something called "carboxytherapy" also known as topical carbon dioxide. When the gel is applied to the dermal tissues of the vaginal and/or vulva, it stimulates your body to dump a bunch of oxygen into those cells, creating super quick turnover like a healing response. We call this process "hyper-oxygenation." 
Can CO2 Lift be used successfully, even if we don't have an in-office pelvic treatment?
Yes, although many people will benefit from in office services like Emsella, the CO2 Lift can be used on its own. The kits come with a pack of 3 and we recommend using 1x a week. Depending on severity of symptoms anywhere from 3-12 treatments may be recommended for noticeable improvement. Anecdotally, several of our staff members, as well as myself have noticed an immediate improvement after one treatment.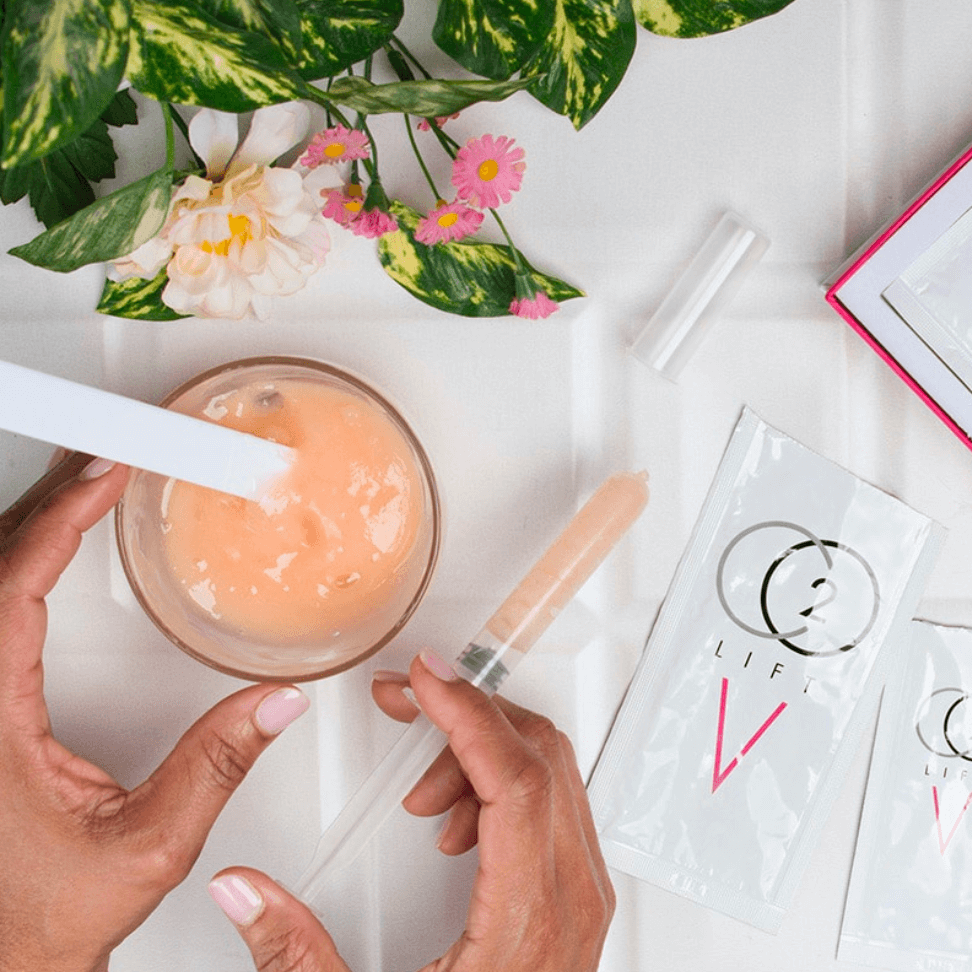 So you've tried CO2 yourself?
Yes! I was able to sample a three pack. In 2021, I had a forceps assisted vaginal delivery and noticed some changes; ie dryness and loss of sensation.
I applied the product as directed which was pretty easy. I mixed the two packets in a bowl, used the supplied syringe to insert a third of the gel internally, and applied the remainder to the exterior. I slipped on underwear and honestly forgot about it.
It's recommended to leave the product on for at least 45 minutes, but since I got busy, I waited about 2.5 hours before taking a shower. As I washed off, I could immediately feel so much more sensation and lubrication.
I repeated this for the second and third treatments, once per week, but only left the gel on for 45 minutes. Now I feel completely back to myself! I don't want to over-promise its benefits in a 3-series though as I do know that postmenopausal women typically require additional treatments to experience the same level of improvement.
For people like me that are healing (fyi, you can use it while pregnant or breastfeeding), you probably won't need maintenance treatments. However, for age-related vaginal changes, more upkeep is likely welcome: one at home treatment over 1-3 months.
I'm so pleased to have this product to offer to our patients as I know it's improved the quality of my life and would love to pass those benefits on to others!

Thank you Mary, we're so grateful for your honesty and expertise.
---

Interested in speaking with one of our nurses more? Pelvic rejuvenation phone consultations are always complimentary, discreet and can be booked online here.