Welcoming Dr. Steven Y. He + Cynthia Chaghouri, PA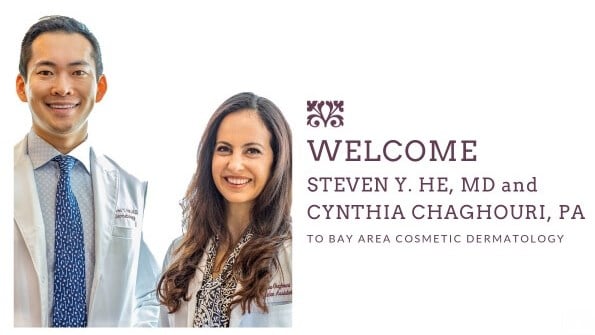 We are very proud to announce we have two new clinicians at Bay Area Cosmetic Dermatology. Steven Y. He, M.D. and Cynthia Chaghouri, PA have joined our expert skincare team and are accepting new patients. We can't wait for you to meet them! 
STEVEN Y. HE, M.D.
Bilingual in English and Mandarin, Dr. Steven Y. He is a board-certified dermatologist specializing in both cosmetic and medical dermatology.
"My medical dermatology approach emphasizes skin disease prevention, early detection and treatment of the underlying cause with a goal for cure.
My cosmetic dermatology approach aims to maintain your unique, underlying beauty and natural expressions with a strong emphasis on less is more towards graceful aging."
Dr. He brings a holistic approach to skin wellness, including diet and fitness in balance with optimizing other systemic medical conditions. As an avid triathlete, you can find him swimming, biking, and running around the San Francisco Bay Area. Dr. He also enjoys local fitness classes including Barry's Bootcamp and Flywheel, as well as exploring the local farmer's market and eateries.
Dr. He would love to help you develop a personalized daily skincare regimen to promote lifelong healthy and youthful skin.
CYNTHIA CHAGHOURI, PA, BLS, CAS, PALS
Cynthia Chaghouri is a nationally-certified Physician Assistant by The American Academy of Physician Assistants. She comes to us with 7 years of medical, cosmetic, and laser dermatology experience.
Cynthia graduated from Loyola Marymount University where she received a Bachelor of Science in Biology. She then earned her Master of Physician Assistant Practice from the University of Southern California Keck School of Medicine in Los Angeles. Cynthia began her career in primary care and plastic surgery before finding her passion for dermatologic care. 
Cynthia is an incredibly sweet and caring provider who loves her patients. She looks forward to meeting you!