Our Top 10 Treatments of 2018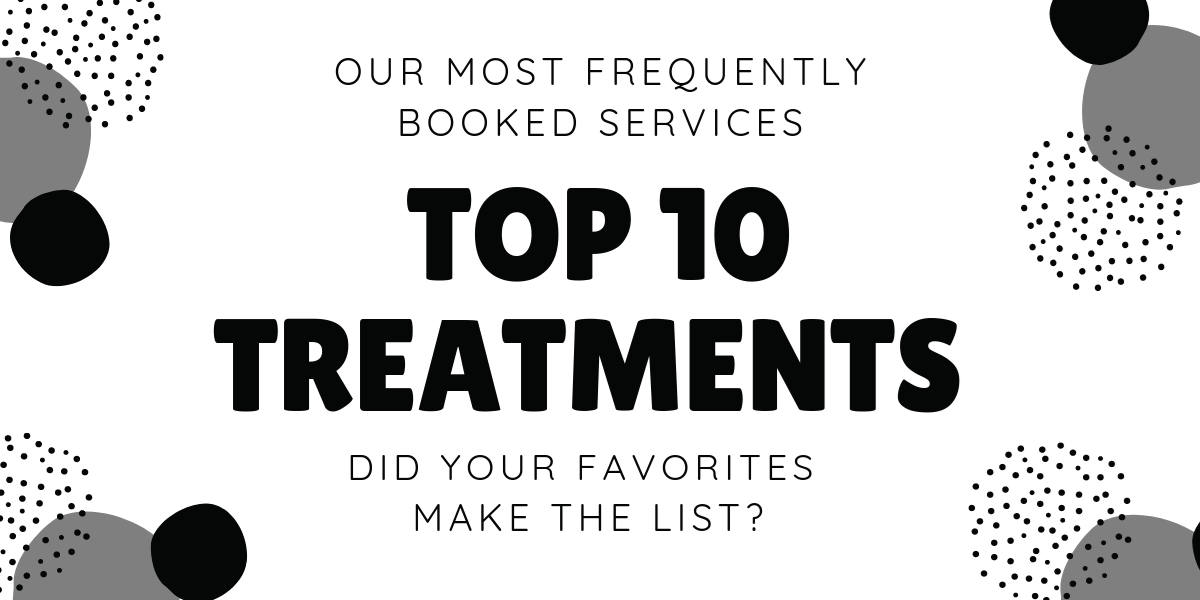 Counting down the ten most in demand treatments of 2018. Did your favorites make the list?
#10 EXILIS ULTRA
While we all want to be more relaxed that doesn't hold true for our skin. The Exilis Ultra is a favorite for our derm patients as it tackles just that, laxity. It's also a favorite of our body patients because it help to lessen the appearance of cellulite. Exilis is supremely comfortable with most describing the treatments as calming and akin to a hot stone massage. Now that's the kind of relaxation we're talking about!
#9 THREADLIFT
Gracefully side-stepping the time and cost commitment of a traditional face lift, Threadlift has quickly soared as one the most desired treatments since we introduced it last year. Our patients enjoy immediate lifting of sagging cheeks and necklines as well as a gradual rebuilding of their own collagen. "It is so much fun to see our patients after they have a Threadlift! Dramatic tightening and lifting but all so natural and subtle at the same time. " - Laura Carlos, RN
#8 HYDRAFACIAL
Why are our patients so keen on Hydrafacials? Glow baby, glow. This medical grade facial is a triple threat, cleansing, extracting and infusing the skin with high quality active products that brighten, moisturize, plump and protect. They're also an ideal way to prep for a big event.
Patients routinely request this double duty laser as it targets both brown pigment and redness, transforming uneven skin into a radiant complexion. With only minor discomfort and minimal downtime, we actually look forward to the 'cinnamon sprinkles' that pop up post treatment knowing those dark spots are soon to be a thing of the past.
"Even skin is associated with youthful skin - exactly what IPL can provide! Other benefits for overall skin rejuvenation to fine lines and pores make photofacials one of my personal faves." - Katie McCormick, RN
#6 FRAXEL
The question here may be, "What CAN'T Fraxel do?" Aside from serious anti-aging capabilities including improving skin's texture, tone, and clarity, patients opt for Fraxel to treat sun spot pigmentation, discoloration, freckles, age spots, uneven skin tone, acne, and acne scarring. Whew. No wonder this powerhouse made the list.
"Fraxel is a go-to because it's safe, effective and tolerable, too. Patients also often see tightening with Fraxel CO2 making this treatment an easy favorite." -Yvonne Faucher, RN
#5 ULTHERAPY
This non-invasive procedure turns back the clock by kick starting lethargic collagen, slowing the inevitable cheekbone slide and tightening up the jawline. Not only do patients love Ultherapy for the face but they also feel more comfortable wearing their favorite tops after treating pesky crease lines of the neck and chest. Ulthera is also a top choice among our male patients as it requires zero downtime and results progress over the course of several months. This treatment will have everyone asking, 'How do you do it?"
"I love how precise and customizable Ultherapy is. It's a huge benefit to be able to specifically target the deep levels of each patient's skin and then see deep lifting and tightening appear. Each time I've personally had an Ulthera I feel like I've won 5 years back on my skin." - Mary Krempa, RN
#4 VASCULAR LASER
All hail the Vbeam! This mighty laser has been around for longer than most and for good reason. It's extremely effective at treating broken capillaries and redness resulting from rosacea or sun damage. As a bonus it can also treat spider veins AND scars. No wonder our patients love the Vbeam.
Bye bye bulge. This non-invasive fat reducer is so popular because it works. Waistlines whittle, arm fat waves goodbye, and love handles don't stand a chance. Patients trust our body sculpting team because they are the most experienced in the Bay Area and consistently create enviable results. See what all the fuss is about - body consults are always complimentary.
Call it Botox, Xeomin, or Dysport - we call neuromodulators a miracle! Our patients are consistently thrilled with what these injections can do. Lines soften, creases blur, years fall off. Our expert team of injectors always tailors your treatment to ensure gorgeous, natural results.
#1 FILLERS
Looking to plump your pout or bring back some of your younger cheekiness? Our #1 most requested treatment may be your answer! Patients know Dr. Welsh and Dr. Austin are two of the very best injectors and filler can take years off in a single visit. With the goal to always make you look like a more refreshed version of yourself, never "done," filler can be our little secret.
"What's not to love about fillers? Not only do they correct volume loss but they can also be used to contour for some seriously stunning results." - Stacey Baenen, RN
Curious if one of these treatments may be right for you? Call our office to schedule an appointment or send a message to us below.