Our Best Before & Afters of 2019
We are always honored when patients allow us to use their before and after photos so others may see what is possible with a customized treatment plan or to get more information about a treatment they may be considering.
Check out a handful of Bay Area Cosmetic Dermatology's best transformations of 2019. We think you'll agree, the results these patients achieved are remarkable! All photos of are our actual patients, performed by our providers.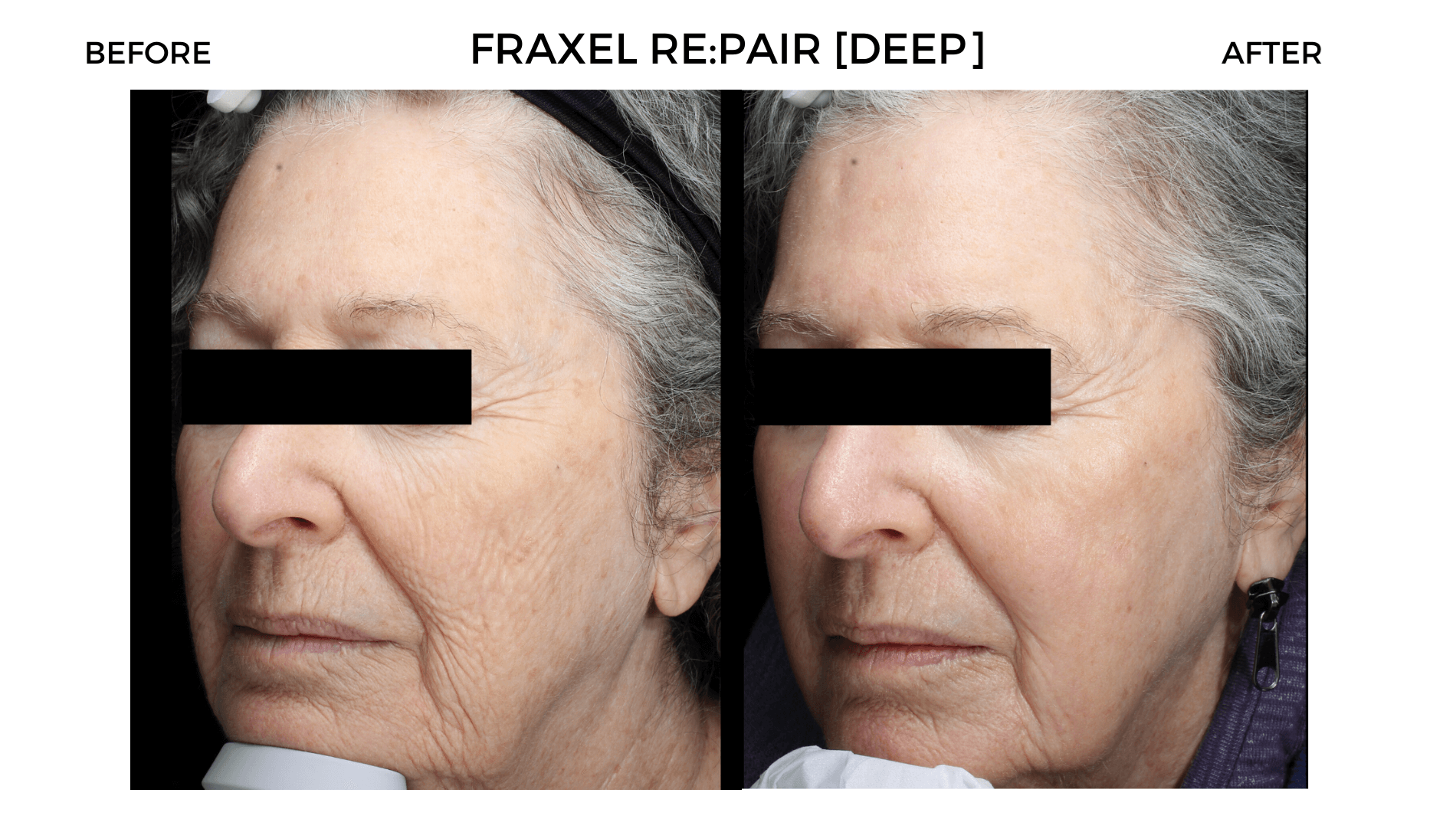 This patient underwent a Fraxel Re:Pair treatment with Dr. Andrea Austin and what you're seeing is after a single treatment. Fraxel Repair is a fully ablative CO2 (carbon dioxide) laser that can offer quick and dramatic results. With just 7-10 days of social downtime, it takes decades off the skin without surgery. Combined with a comprehensive skincare regimen, ablative laser treatments help you look as young as you feel.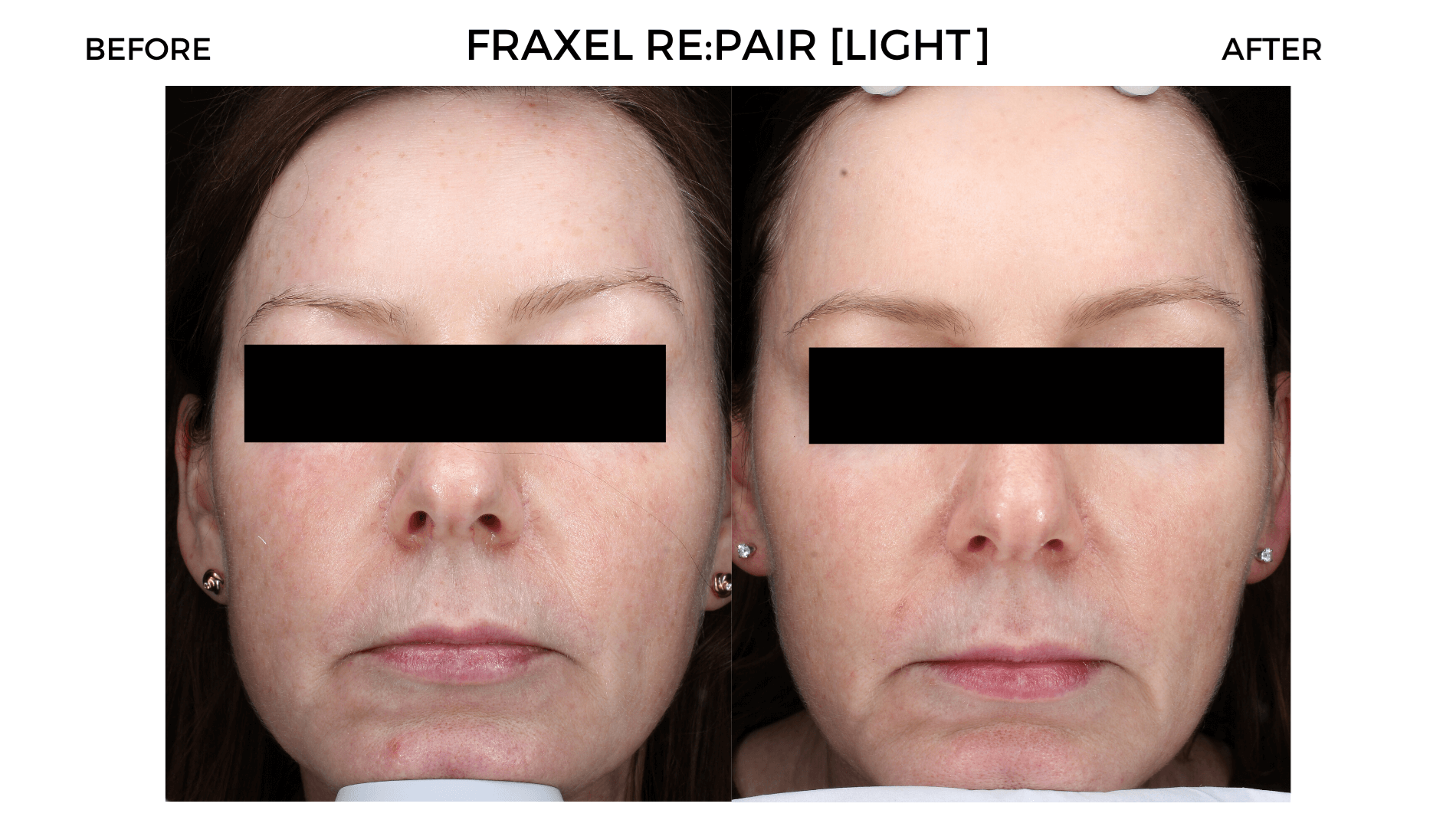 Our providers choose each and every laser setting that is performed in office, to maxmimize your results. For this patient, Dr. Austin recommended Fraxel Re:Pair [Light] to fade sun damage, and resurface this patient's entire skin tone. You can see how much more light reflective and even her skin is post treatment!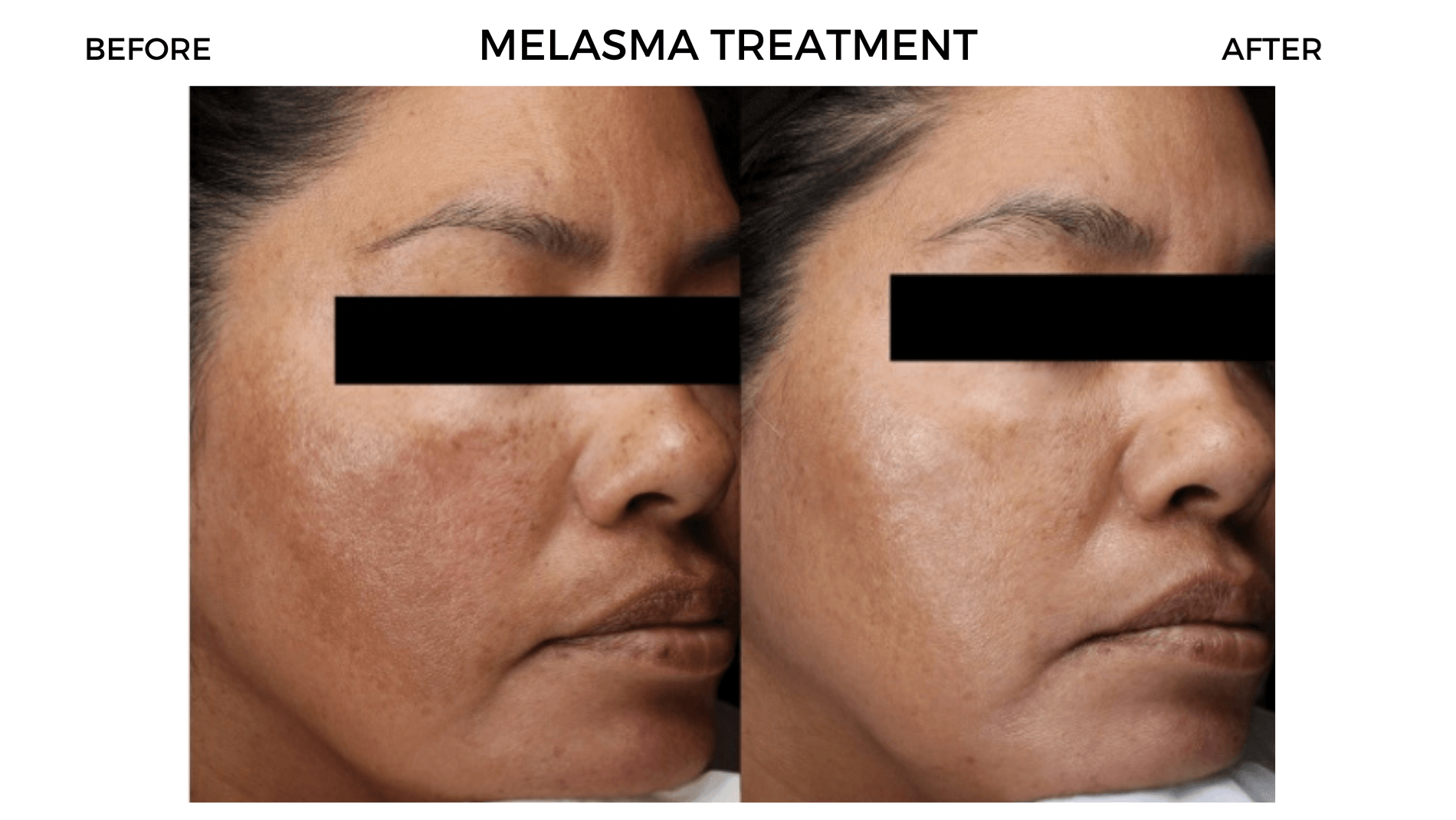 To combat her melasma (unwanted pigment), this patient has diligently followed her treatment plan which consists of medical-grade chemical peels and topicals. Melasma has the tendency to show up seemingly overnight; it is unpredictable and can be frustrating. But Melasma is not untreatable.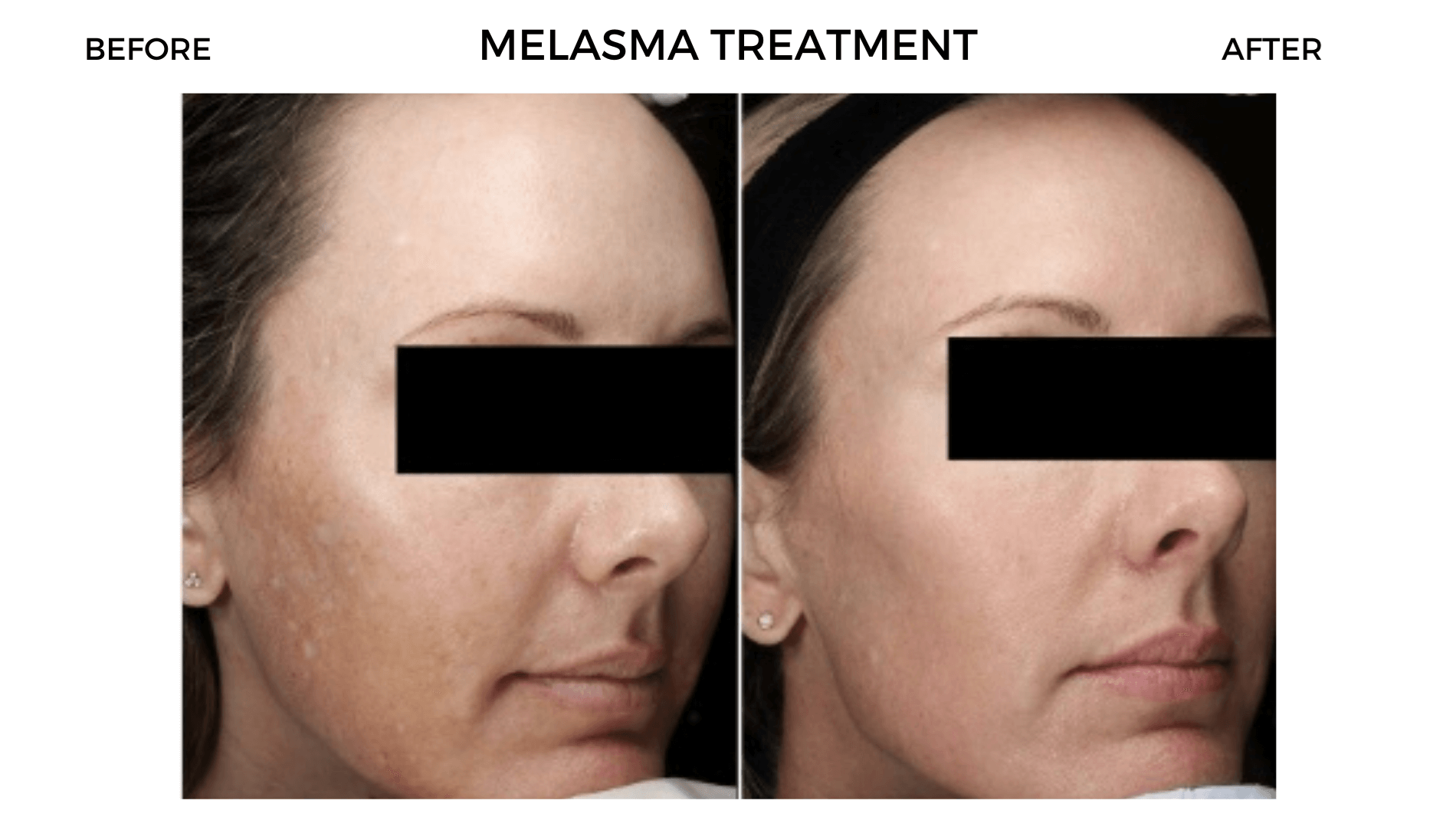 By sticking to a custom-designed skincare plan, this patient achieved these glowing results in less than a year. Her plan included a series of chemical peels and an at-home topical regimen using the SkinMedica Lumivive System. If you're also noticing a subtle but powerful lift around her mouth and jawline, that's thanks to her body's own boosted collagen production after lower face Ultherapy, one of our favorite 'sneaky' treatments.'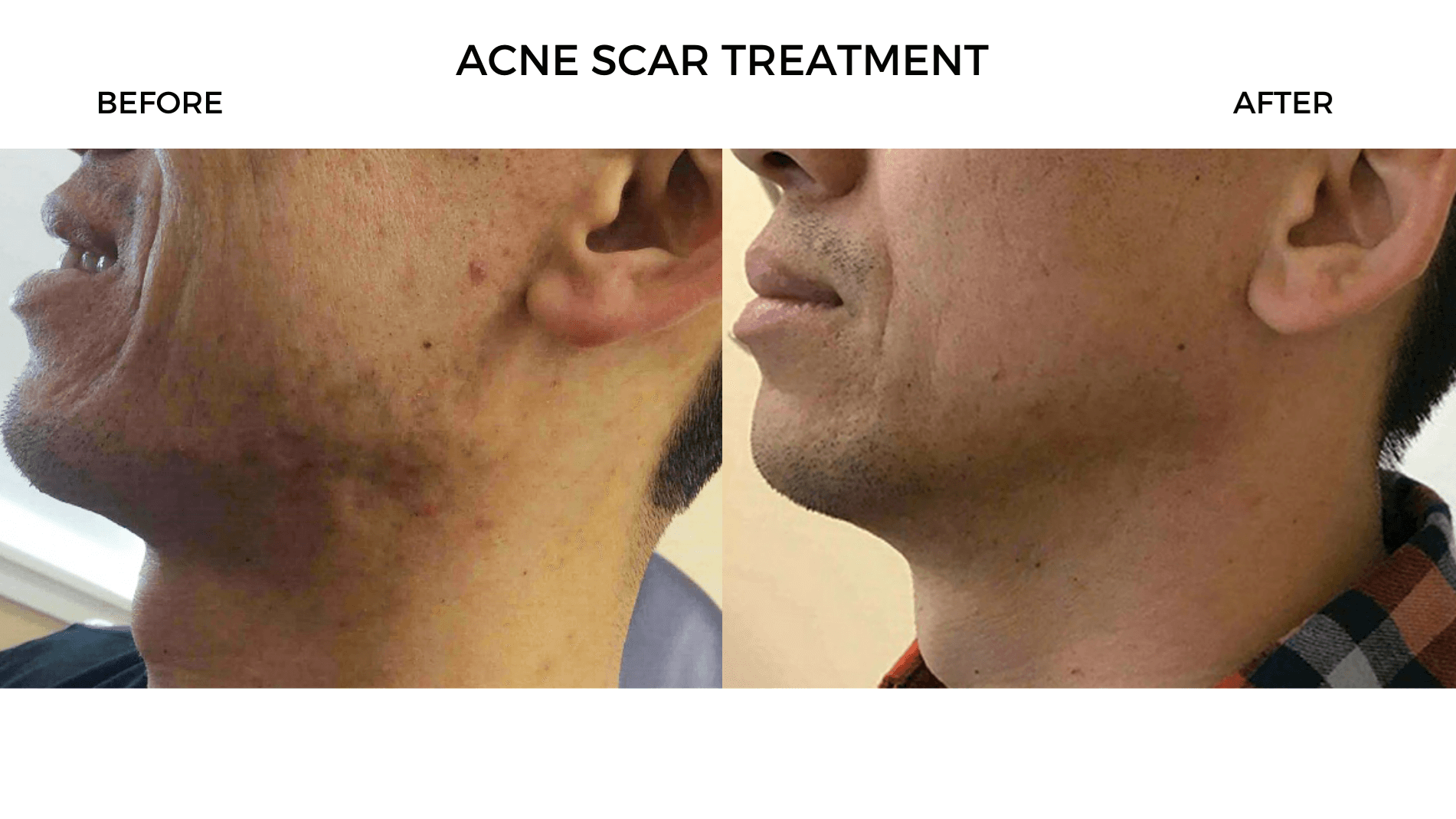 This gentleman came to us wanting to reduce acne scars along his jawline (where many of us see the most extreme breakouts). We performed a combination of subcision and TCA Cross in office. He is also following a topical skincare regimen that includes Tretinoin and TNS Essential Serum. At-home skincare is absolutely essential to the success of acne scar treatment.
This patient began PRP injections in March of 2019 and has had several treatments since. He is pairing his in-office treatments with Nutrafol Hair Supplements for major results. A surprising note? No hair color has been applied but he has noticed his hair is now coming in a lot darker than before. Why? Because the hair shaft is thicker and more robust. This is something we notice with PRP treatments among all our patients.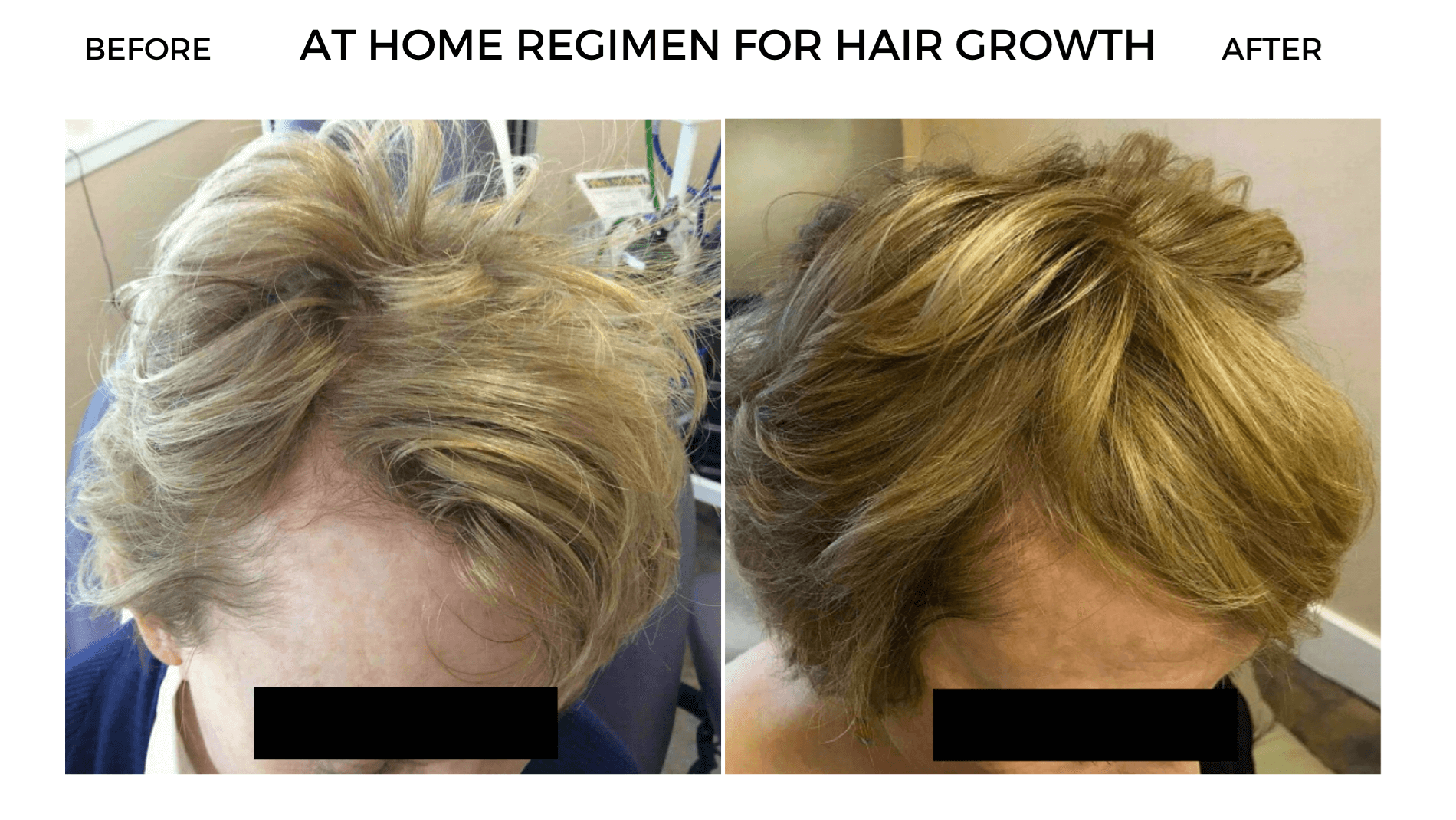 Above you saw a set of before and afters of one of our male patients who achieved new hair growth with PRP injections + Nutrafol supplements and our female patients certainly experience the same amazing results!  These pictures beautifully illustrate how diligently following a custom-designed treatment plan can yield some seriously impressive results. Not only did this  patient experience more growth overall, but the actual strands of her hair are now thicker making them more light-reflective.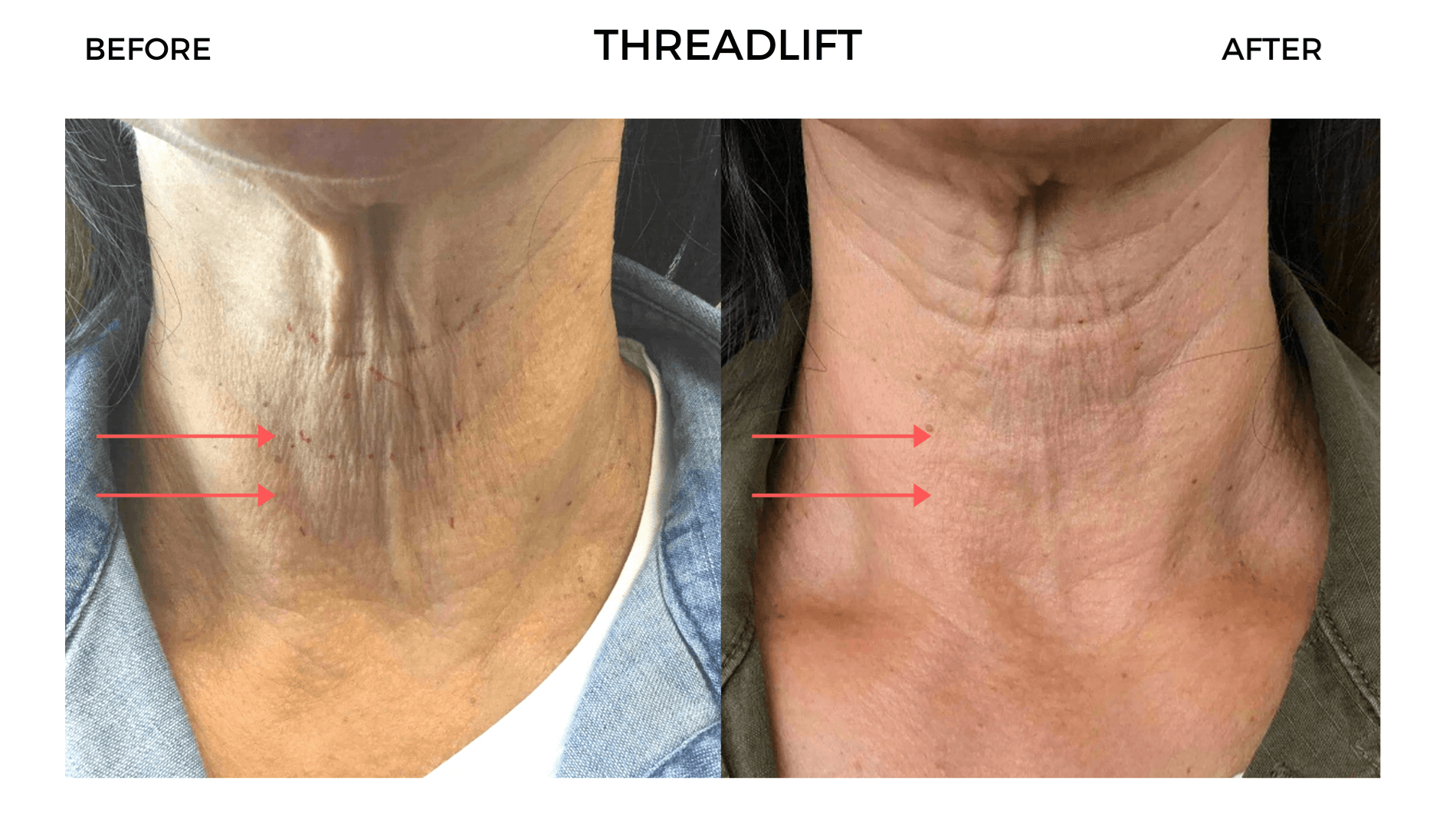 Dr. Austin performed a thread lift with NovaThreads (also know n as InstaLift) for this patient's lower neck. Our patient wanted to see how the results looked before treating the rest of her neck. Needless to say, she was thrilled and will be returning to treat the upper half next.
NovaThreads are a new take on an old technology - dissolvable stitches. These fine threads are placed in the skin to create columns of support and stimulate your body to create new collagen for tightening and lifting. Our board-certified dermatologists also use NovaThreads to lift cheeks, foreheads, create more defined jawlines and reverse years of aging.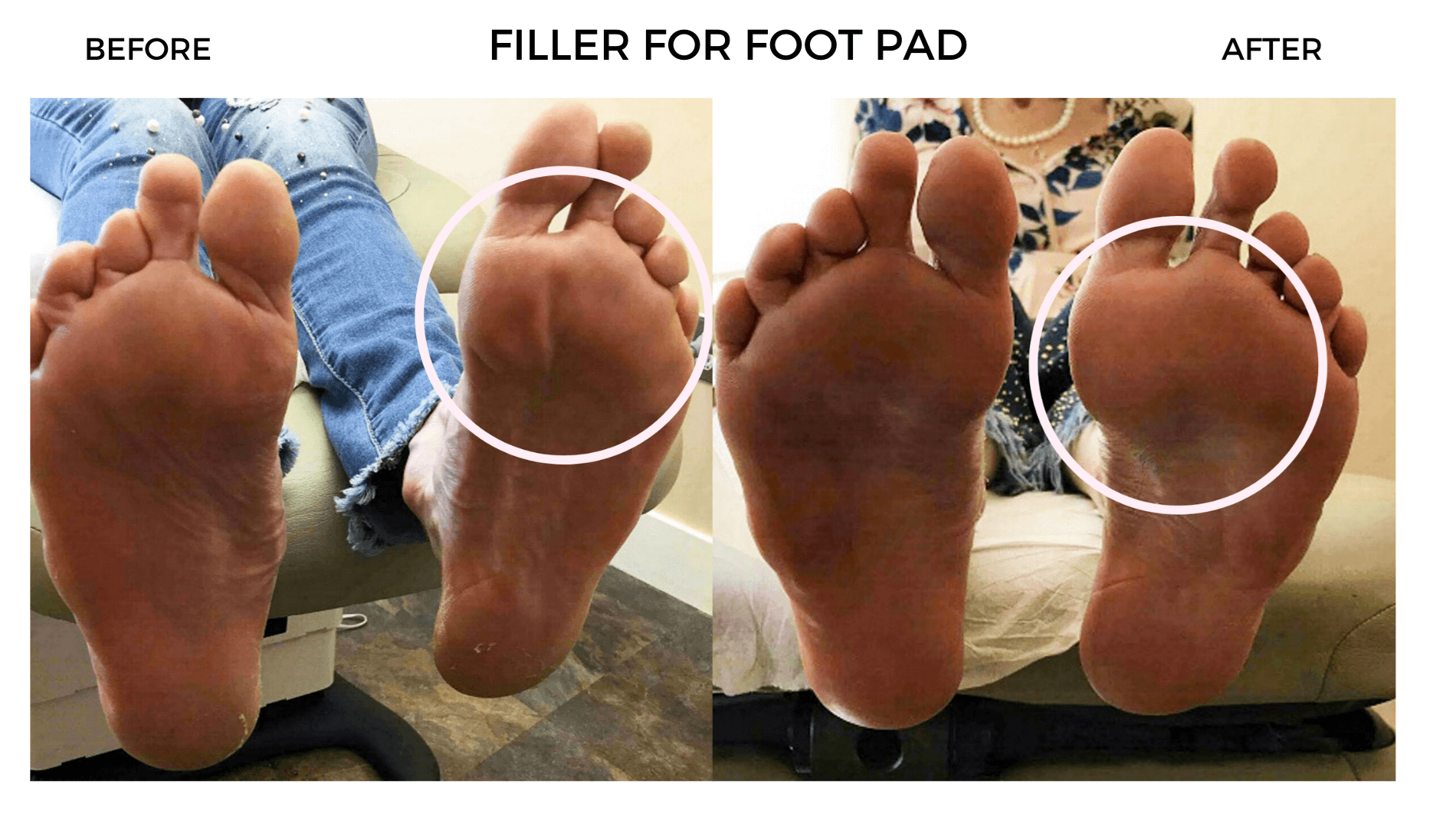 Filler in your feet? Yes! If you've spent a fortune on shoes you think can't wear anymore, it may be time to invest in your feet and break out your favorite heels again! This patient is THRILLED because after she consulted with several doctors, all of whom suggested invasive foot surgery, she was able to find relief without surgery. Dr. Austin used filler to replace the padding under her big toe. She can now walk AND dance again, without pain.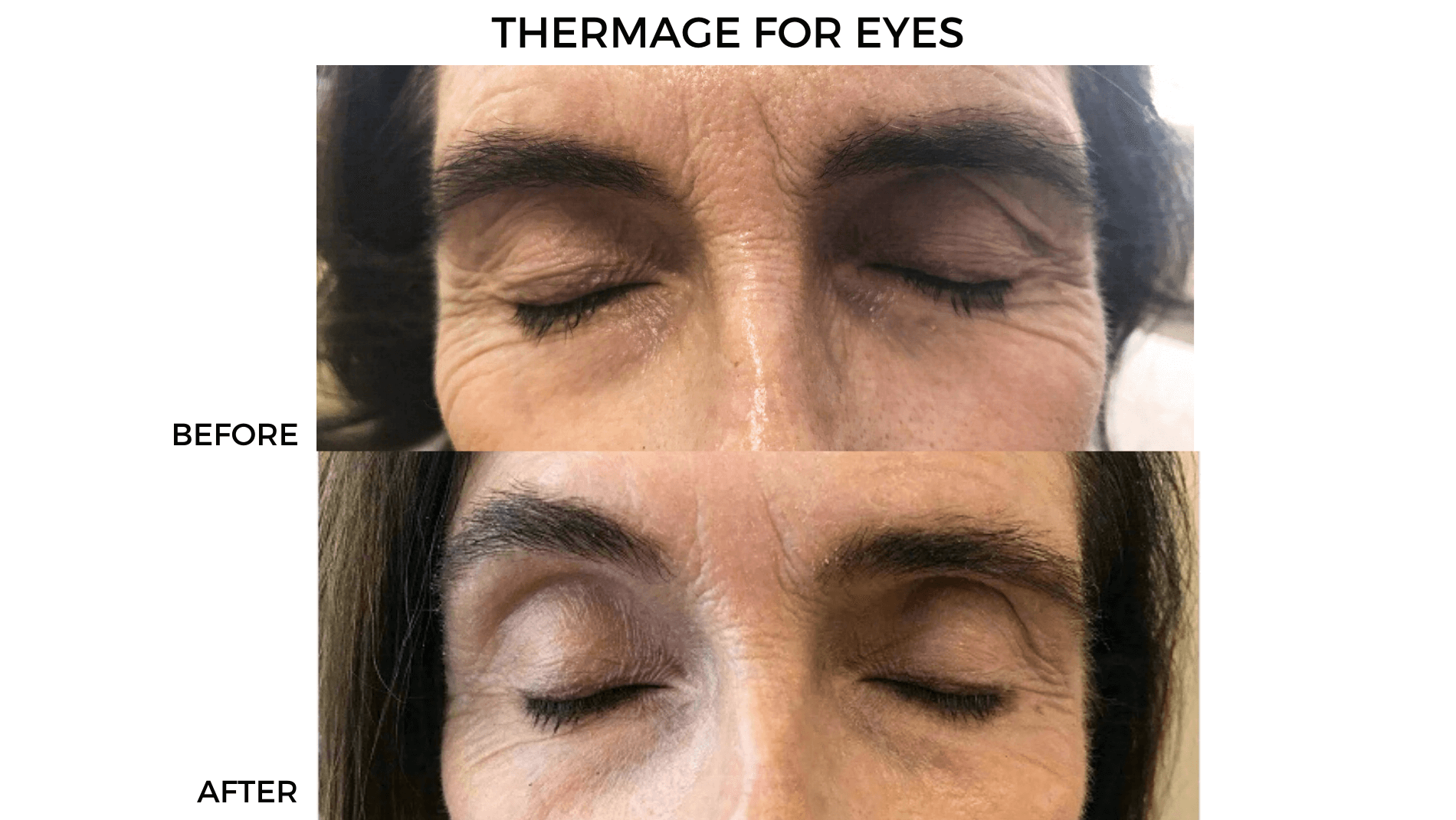 This patient wanted to diminish lines around her eyes, tighten and smooth the delicate skin without any injectables or surgery. Thermage FLX treatment w as included in her custom plan and what you're seeing is after one treatment and per her wish, no injectables. And as with all cosmetic procedures, an at-home regimen of topical products is further enhancing her results. We include a choice of highly effective eye creams with all of our Thermage Eyes treatments. Our providers are sensitive to the fact that every patient needs a fully customized cosmetic plan taking into consideration a wide range of variables. We simply don't believe in "one size fits all." Our goal is to find the solution that works best for unique skin while providing maximum benefits. And we think this is exactly what this patient achieved. Many will see results after a single Thermage treatment depending on the amount of laxity present, multiple treatments may be recommended.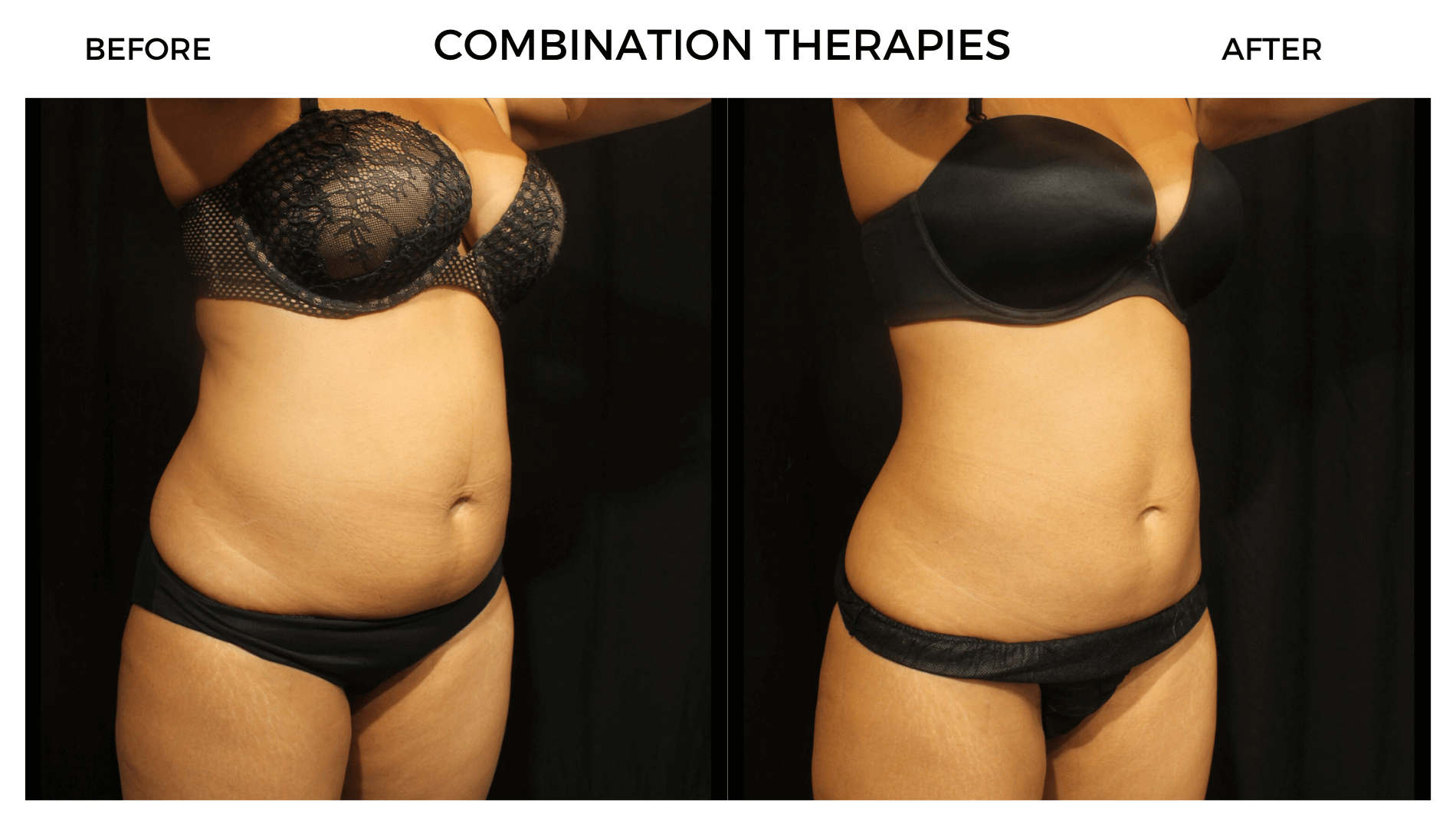 The suite of non-invasive body contouring services we offer in our The Body Clinic is designed to provide patients with their absolute best results. A variety of factors come into play as we age, so offering just one treatment option often doesn't make sense. Roxanne, practice manager of The Body Clinic designed this patient's treatment plan to include a combination of Vanquish (fat reduction) + EMSculpt (muscle building), followed by a series of EMtone treatments to provide very natural, overall fat reduction and skin tightening. And amazingly, this combination required zero downtime.
While we often use Emtone for cellulite treatment, this patient is a great example of the device's other capabilities. In just 6 sessions of EMtone, he saw his abdomen as well as chest become tighter, firmer and slimmer. EMtone is one of our most popular treatments in The Body Clinic as it's comfortable, requires no downtime and nearly everyone is a candidate.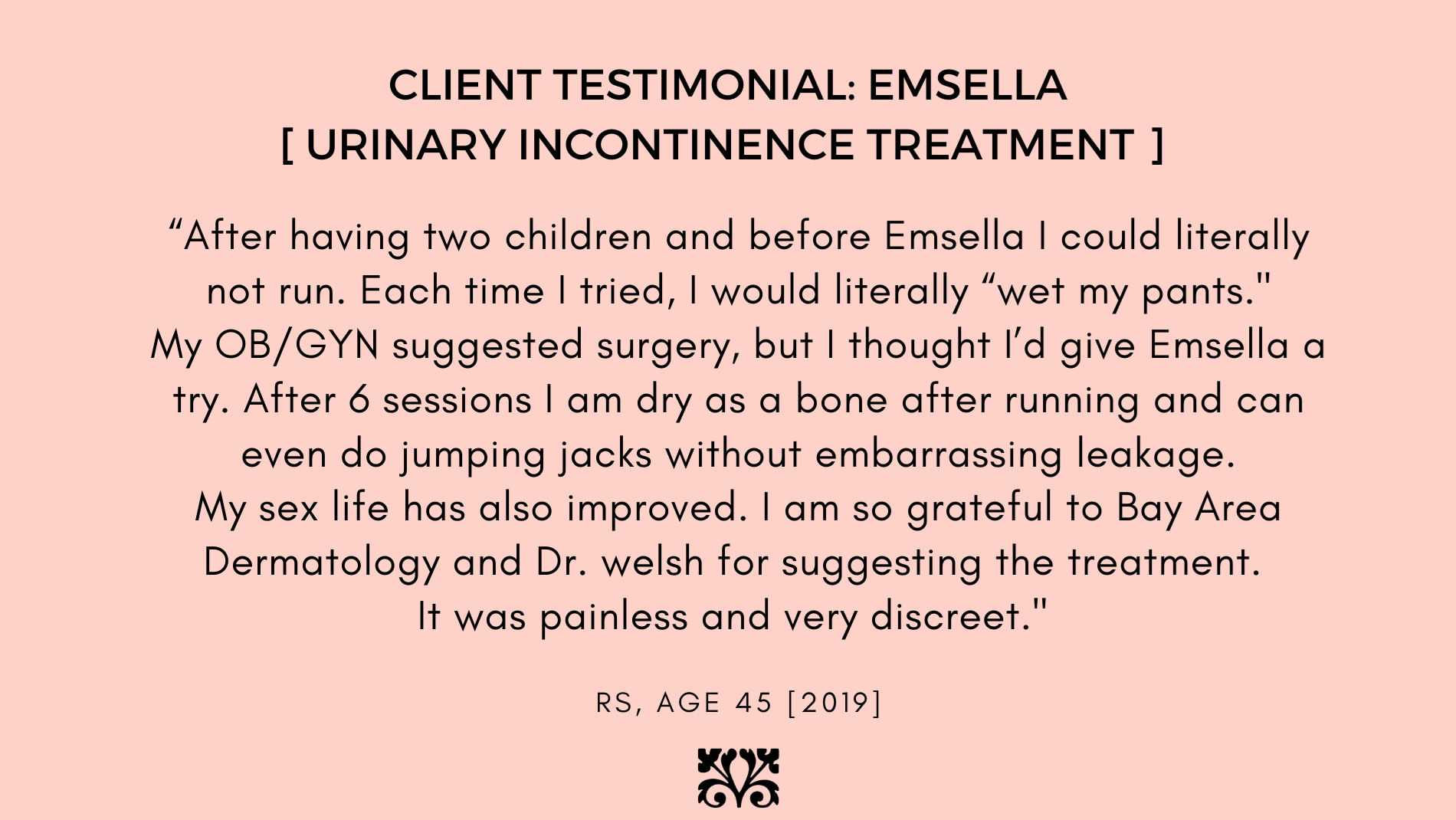 General aging of the body, childbirth, and menopause can all lead to a weakened pelvic floor, resulting in the inability to control our bladder. For too long the solutions have been unattainable (ie hundreds of Kegels a day), uncomfortable (pads) or invasive (surgery). But now a non-invasive solution, Emsella, is giving the control back to patients like this one. We are proud to offer these services to our patients - if you are interested in setting up a complimentary phone consultation to discuss which of our treatments may be most ideally suited for you, please email [email protected].