Combo Treatments for Max Results: Sculptra Meets Fraxel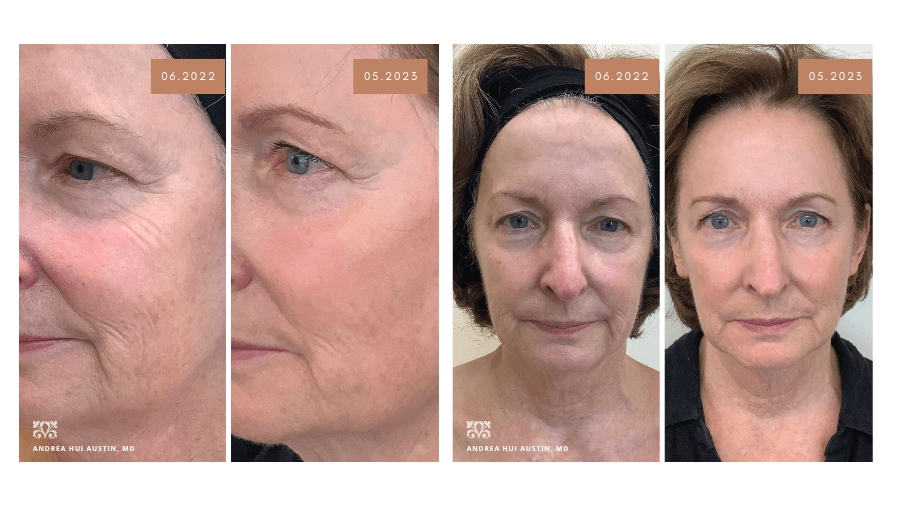 The power of combo treatments can seriously elevate AND enhance the impact of each service. This lovely patient has been a fan of Fraxel Repair since her first treatment with Dr. Austin in 2015. Her skin looked fabulous before but was she curious what else we could do to amp up results. Enter: Fraxel Repair + Sculptra. 
Here are her results ONE YEAR LATER w/o any treatments in between. 
What is Fraxel Repair?
Based off of C02 laser technology, Fraxel Repair helps resurface the skin to reveal a beautiful glow. This works by removing tiny columns of sun-damaged tissue on the skin's surface and deeper layers to stimulate production of fresh, healthy skin cells + collagen. 
What is Sculptra?
Sculptra is an FDA-approved filler, and unique in that it's solely meant for collagen production. It's a sugar molecule that Dr. Austin refers to as "seeds for collagen." In this combo treatment, Dr. Austin applied a smooth layer underneath the skin to boost potential for collagen + tightening, as well as topically during the Fraxel Repair to stimulate surface collagen growth. The Sculptra molecules are absorbed by the skin in a few short weeks and in its place are new collagen fibers. You can see how smooth this patient's skin looks. 
Downtime
8-14 days of social downtime depending on depth of treatment, with skin fully healing 10-21 days post. Best results are seen around the 2 month mark. In this patient's case, her results continued to improve past the 1-year mark. 
Results
 This patient noted her results with this Fraxel Repair were significantly more effective than her previous treatments. This is only possible w/ a RX-grade skincare regimen to maintain the beautiful results.
GRASSE Skincare 
• Growth factor (TNS Advanced+ Serum): Stimulate healthy new collagen, skin
• Retinoid (BACD Tret .05%) Smooth surface, boost collagen, prevent skin cancer
• Antioxidant (SkinCeuticals CE Ferulic): Prevent DNA damage 
• Sunblock (ISDIN ): Provide sun protection
• Specialty (BACD Fortified Cream): Extra moisture fo r mature skin
• Eye Cream (Neocutis Lumiere): Moisturize ey e area, promote collagen production.