Donor spotlight: Kathleen Welsh, MD, FAAD from the AAD
Article originally published on AAD.org, June 2023
By Dean Monti, Managing Editor, Special Publications
Link (requires AAD site membership to access)
A determined stride
When she's not practicing as a physician and leading her team at Bay Area Cosmetic Dermatology in San Francisco, you can probably find Kathleen Welsh, MD, FAAD, outside. More specifically, communing with nature.
There's also a good chance you'll find her outside walking and participating in AAD's Skin Cancer, Take a Hike!™ Her recent hike to Japan was  one of four AAD hikes she has participated in.
"I love the outdoor life," Dr. Welsh said. "I'm a runner, kiteboarder, skier, and hiker. I try to exercise as much as I'm able so I can continue doing the sports I love." Traveling the long road alongside her in life is her husband, Bill Plautz, MD, an emergency physician. Together they've transformed their love of outdoor adventures and medical training into an aspiration as tall and impressive as the crests of the mountaintops she's scaled.
Philanthropy
"When we were young, Bill and I focused on outdoor experiences and connections wit others, while living well below our means," she said. "This allowed us to invest at an early age and has enabled us to become philanthropists — something I never would have imagined growing up. We both decided years ago to live more simply and use our resources to accomplish significant philanthropic goals."
Dr. Welsh, who has since become one of the AAD's high-level donors, was also preparing to lace up her hiking boots and "walk the talk" (as she playfully put it). She gained her inspiration to participate in AAD's hikes from Ellen Marmur, MD, FAAD , Skin Cancer, Take a Hike!™ founder, and a skin cancer survivor.
"When I heard about Dr. Marmur's involvement in Skin Cancer, Take a Hike!™ and her trek up Mt. Kilimanjaro, I was so impressed and inspired that I wanted to participate in the program," said Dr. Welsh, who, along with her husband, are also skin cancer survivors.
"Little did I know I would see some of the most beautiful places in the world and make lifelong friendships that have enriched my life beyond any expectations. And all for a good cause!"
The Diablo is in the details
That spark of an idea of a "good cause" has led Dr. Welsh to AAD hikes around the globe, starting with a memorable "community hike" she organized to Mt. Diablo in San Francisco in 2015 that included her staff and patients.
"We picked the highest peak in the San Francisco Bay Area that could accommodate our group," Dr. Welsh said. "We a had a vigorous, straight up hike with a family-friendly option.
My patients responded in such a generous way, and it was great team-building exercise for my employees."
In addition to raising funds and awareness for skin cancer detection and prevention, Dr. Welsh said the Mt. Diablo hike was about leadership and encouraging her staff. "Most people in health care want to help people. We had already done a Spartan-type competition as a group, as well as many office-sponsored run/walks, so it fit in really well with our office and patient culture. I encourage other dermatologists to get their staff and patients involved."
A world view, one step at a time
For her next AAD hike, in Patagonia, Chile in 2017, she was accompanied by her husband, Bill. Hiking through geographic landscapes not often seen, she and her husband gained a vitally significant world view on health care and philanthropy. She also got involved in the TIBA foundation — an Africa-led, wide-ranging, multi-disciplinary research program. (The acronym stands for Tackling Infections to Benefit Africa, and 'tiba' means "to cure an infection" in Swahili).
"We focused on improving health care in rural Kenya through TIBA, supporting girls education in war-torn countries, providing educational and sports programs to children who would otherwise not have access, environmental causes, research, educational institutions, and community-based programs. Skin Cancer, Take a Hike!™ aligns well with our philanthropic values."
In Patagonia, Dr. Welsh remembers the wonderful bonds of friendship enhanced by sharing the amazing physical surroundings and experiences that the hikes bring.
"I'll never forget during our first hike in Patagonia when we unfurled our Skin Cancer, Take a Hike!™ banner," she recalled. "A young girl with our group came up to me as they were scattering her dad's ashes. He died of melanoma. She was so touched by what we were doing. And so was I."
Unstoppable!
The pandemic precluded the next planned live hike, but Dr. Welsh carried on with a virtual event in 2020. And when surgery for a brain aneurysm kept her off the trails for the AAD's next adventure hike in the Dolomites in 2022, it did not deter her from fervently dedicating herself to fundraising events for the event. Adversity doesn't stop Dr. Welsh, rather, it emboldens her.
"I was determined to make the next trip in 2023 and suggested the Kumano Kodo Walking Tour in Osaka, Japan, which is part of an ancient 1200-kilometer Buddhist pilgrimage trail. Having gone through a life-threatening experience, the combination of fellowship, hiking, and fundraising through a historic spiritual area resounded with me."
She was joined in Osaka by her husband and some good friends and fellow dermatologists, including Dr. Marmur and her family; Diane Madfes, MD, FAAD, and her daughter; Ava Shamban, MD, FAAD; Sue Ellen Cox, MD, FAAD, and her partner, Joel Panara; and Jeanine Downie, MD, FAAD.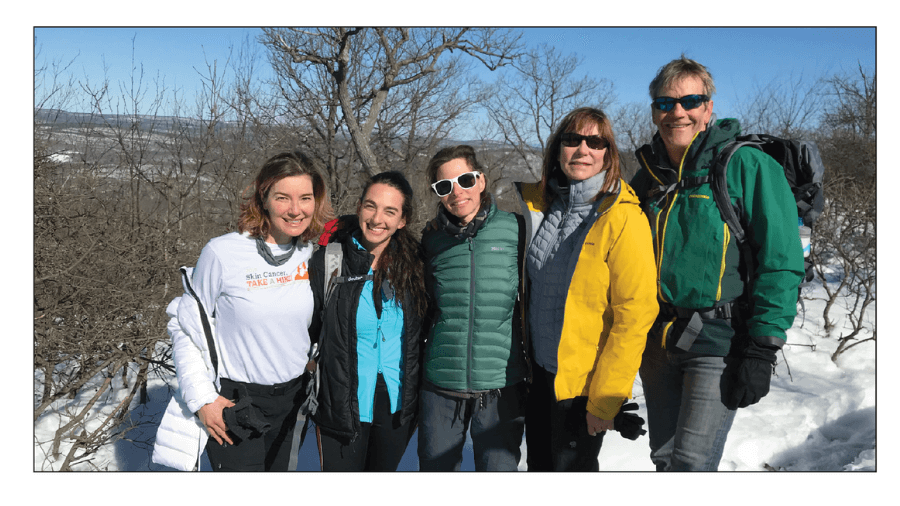 Crossing the stream together
Covering countless miles and unpredictable terrain on her AAD hikes, Dr. Welsh has seen the most spectacular elements of nature and accumulated more memories than many of us will experience in a lifetime. One of the poignant memories that has stayed with her originated during the Patagonia hike, when she discovered a fellow AAD hiker during a downpour who had been separated from the group.
"She was about to cross a slippery stream by herself when she heard us all coming. When I got to her, she told me 'I realized I don't have to do it all by myself.' These words have resonated with me in many difficult situations. It's given me the courage to reach out to colleagues for help when needed."
Stepping up
Beyond the high times, forging of friendships, and impactful fundraising, getting the word out about skin cancer is one of Dr. Welsh's paramount goals. She also believes it's equally important for others in her profession to step up accordingly by participating in hikes, donating to the AAD, and raising awareness about skin cancer.
"It's core to all dermatologists," she said. "Despite best efforts, there is still so much misinformation about skin protection and skin cancer prevention. That's why I feel it's important for everyone to support AAD programs.
As a national organization, the AAD has the resources to make a big difference on a broad scale to advocate for patients to get the best care and educate the public." She added,
"Without the access to educational resources from the AAD, beginning in residency, I would not be the doctor I am today." DW