One Provider's Personal Experience with EMTONE Cellulite Therapy
An interview with Roxanne Krempa
By Kevin A. Wilson, Contributing Editor
Originally appeared in The Aesthetics Guide, November/December 2019 Issue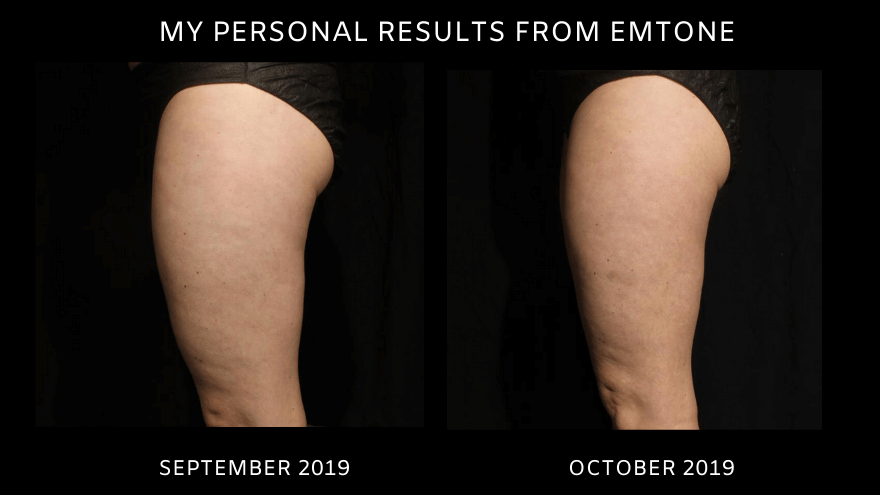 Combining the synergy of simultaneous targeted pressure energy (TPE) and mono- polar radiofrequency (RF), EMTONE cellu- lite treatment from BTL Aesthetics (Boston, Mass.) is unique in the space. Loved by practitioners and patients alike, EMTONE can be used on cellulite of any grade, and is often used on the thighs or buttocks where the condition is most prevalent. The only consumables are ultrasound lotion to help the handpiece glide across the skin, and the grounding pad necessary with monopolar RF.
Roxanne Krempa, lead body sculptor and practice manager at Bay Area Body in San Francisco, Calif. – the body sculpting division of Kathleen Welsh, MD's practice – is involved not only in treatment plan- ning, but has also used the devices, and interacts regularly with patients. "This is an almost universal product because most women have cellulite, so it is a very common concern in our practice, plus we see some tightening so you can use it on virtually anybody," she stated.
"It is also a perfect complement to fine- tune the other body sculpting treatments we provide for the most natural-looking outcomes, especially in conjunction with debulking devices. It is the finishing touch. I call it my 'magic wand,'" she continued. "Nonetheless, it is great for cellulite as a stand-alone therapy and gives us quicker results than anything in the office."
EMTONE therapy is effective for any type of cellulite. Stiffer cellulite will see more benefit from the mechanical component of therapy, while 'softer' cases will be more affected by the RF heat. "The challenge to treating cellulite is its multifactorial nature," Ms. Krempa shared.
"Underlying fat bulges are exacerbated by decreased local circulation, lax over- lying skin and reduction in elasticity of the fibrous septae. EMTONE treats all of these safely and effectively, so you can see results with virtually any cellulite patient."
Ms. Krempa added that the most extreme cases will always benefit from adjunctive therapies to further address the fatty layer or tighten skin.
The mechanical aspect of EMTONE treat- ment, TPE, stimulates local circulation, relaxes the fibro-septal network and enhances collagen production, improving the quality of overlying skin. RF provides a thermal component.
According to Ms. Krempa, "the result looks tighter, firmer and slimmer." The device is also easy to use. The Smart Touch appli- cator activates only when in contact with skin, the audio/visual interface, with intui- tive touch display, make modulating treat- ment parameters simple.
"Ergonomic design of the handpiece makes treatment easier for the user," said Ms. Krempa. "It is also very quick. You can treat both the front and back of a thigh in 12 minutes versus 30, as seen with other devices. Treatment speed also minimizes user fatigue."
While the device lends itself to treatment by ancillary staff, it requires attention and technique, though this is not difficult to learn, Ms. Krempa indicated.
The recommended course of treatment is four to six sessions over a few weeks, depending on the severity of the cel- lulite, with sessions occurring once or twice a week. This may be compressed within a shorter timeframe if desired, and the device is safe enough for patients to receive several treatments in a single day, if warranted, on different body regions. "If patients have time, we try to do at least twice a week."
Ms. Krempa is also a patient and has undergone treatment with EMTONE. "Patient satisfaction comes not only from the outcomes, but the relatively quick, easy, comfortable and hassle-free treat- ment experience," she explained. "There isn't much prep for the patient although you need to be well-hydrated, so we rec- ommend two to three liters of water per day for a few days prior to treatment. The experience itself is described as an intense hot stone massage. And, the mechanical component also serves as a distraction from any discomfort from the RF heat. This means we can obtain higher tissue temperatures than with other RF devices, but we can adjust the heat down to patient tolerance if necessary."
For Ms. Krempa and her colleagues, the speed at which the results manifest was the most surprising thing about EMTONE. "When I had my own thighs treated, I thought maybe I noticed a difference after the first session, but by the third, I definitely noticed. I couldn't pinch as much on my thigh as before," she reported.
"Typically, with body sculpting treatments you get your four to six treatments then wait two to four months to really see the visible improvement you were hoping for," she advised. "Patients are coming in enthusiastic about noticeable results after just a few treatments over a week or so. My own photos are two weeks after the last treatment and the difference is astounding, I've never seen results come that fast before." The best outcomes will still take up to three months to manifest.
Patient satisfaction is extremely high, Ms. Krempa said. "For us, every single patient has seen a result. We have a lot of great body sculpting platforms, including the entire line of BTL devices, and have had a lot of success, but because of the promi- nence of our practice we're also early adopters, so we've had our share of duds. For this reason, we do a lot of research to make sure a new offering fits into our prac- tice. A device so universally effective with rapid outcomes like we see with EMTONE – that's rare."
Ms. Krempa's experience with BTL as a company has also been exemplary. "The support has been outstanding. The reps in our area are great and the science behind these devices provides a strong founda- tion. We really trust them and are willing to try anything they bring out."
"Any practice will benefit from using EMTONE. It was exactly what we needed to effectively treat a common condition, but also to improve our other outcomes even further," she shared.
"If you are looking for the missing piece of your body contouring puzzle, this is it. This procedure will provide great results quickly, it stands alone but works well in combination with virtually anything for a better overall outcome," Ms. Krempa emphasized. "EMTONE makes patients very happy, because it is easy to undergo treatment and provides results you can't argue with."