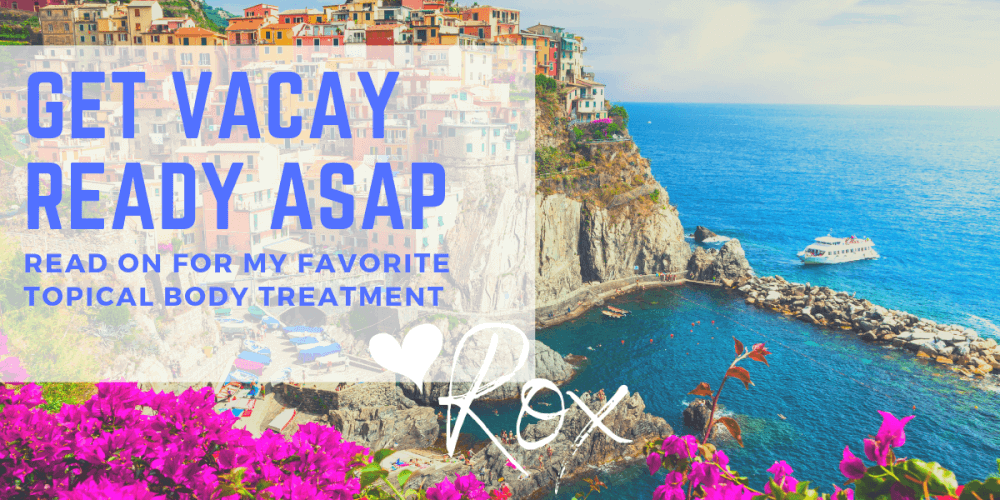 By Roxanne Krempa, Practice Manager of the Body Clinic
If this sizzling weather is any indication, summer is quickly approaching, bringing with it vacations, sunny destinations and very often, more revealing clothing. If you're familiar with non-invasive body sculpting you know that treatments like CoolSculpting can take months to kick in. BUT we've discovered a way to really speed up your results!
I've tried so.many. topical lotions formulated to enhance body sculpting treatments that I can't help but be really excited to share with you one that truly delivers. My new favorite product, Alastin TransFORM Body Treatment, accelerates treatment results AND noticeably helps to tighten loose skin.
MY PERSONAL EXPERIENCE WITH THE PRODUCT
At the end of the month, I am headed to Italy for a seaside vacation as well as to attend a fancy wedding - my bag will be packed with everything from form fitting dresses to bathing suits. So three weeks ago, in preparation, I completed a round of CoolSculpting on my inner thighs and stomach. I know from past experience that my results typically take about two months to show up. This time though, I've been applying Alastin twice a day and I'm already seeing my CoolSculpting results kick in. Can you say arrivederci grasso? You better believe I'll find room for the Alastin in my checked luggage!
I've been thrilled with my personal results and amazed at how many of our patients are reporting the same response. I've heard 'I want to bathe in the stuff' more than once!
BUT HOW DOES A TOPICAL ACTUALLY REDUCE FAT AND TIGHTEN SKIN?
Alastin TransFORM Body Treatment utilizes a LipoDrone delivery system. This means the topical lotion targets the fat layers of the skin as well as aids in the natural removal process of fat debris. Additionally Alastin includes a tri-hex peptide complex to support the growth of new healthy collagen and elastin (which translates to tighter, less crepey skin).
Check out these study results below. On the left you can see the patient enjoyed a 22 ML reduction in 6 weeks post CoolSculpting while on the right, only 5ML of reduction occured in the same time. What does this mean? That Alastin helps to speed up results in a very noticle way.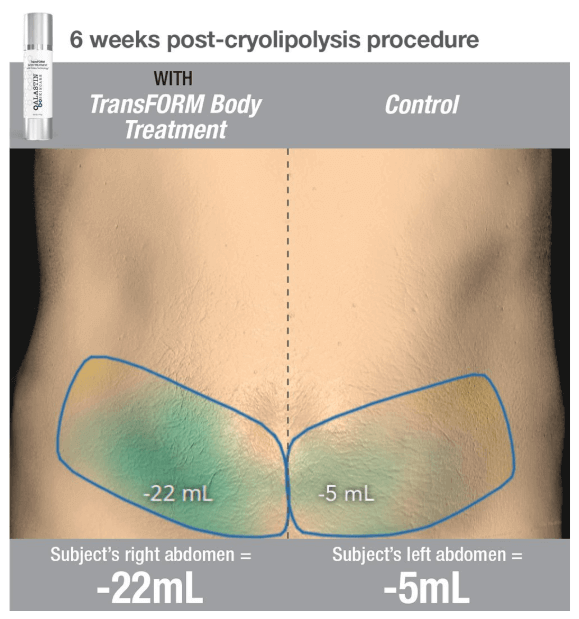 Alastin is perfect for anyone currently doing body contouring treatments but works wonderfully as a stand-alone product as well for anyone who just wants tighter firmer skin. You can use it on any body part, including your neck. I'm also obsessed with the conservative dispenser Alastin utilizes so you are more easily able to get just the amount you want, not too much.
I want everyone who is craving a pre-summer boost to be able to try this so we're offering 10% off through the end of June.
Call The Body Clinic at 415-292-6350 to order over the phone OR purchase online at our online skinstore using LUCKY10 at checkout. Sale ends June 30th, 2019.
Have you tried Alastin? I'd love to hear your experience! info(@)weloveskin.com